"Low-Level" and "VLLW" Radioactive Waste
In 2020, the U.S. Nuclear Regulatory Commission (NRC) proposed a reinterpretation of its own regulations that would essentially allow all "low-level" radioactive waste to be considered VLLW or "Very Low Level" and go to places without a nuclear license. We call it Very Large Lies about radioactive Waste: VLLW. Tell the NRC: No nuclear waste in our landfills.
"Low-Level" Radioactive Waste Is Not Low Risk
The term "low-level" radioactive waste is deceptive and can mean very high doses and risk to people and the environment.
"Low-level" radioactive waste includes the same long-lasting, deadly radioactive elements as high-level radioactive waste, and sometimes in greater concentrations. Well over 90% of the radioactivity in commercial so-called "low-level" radioactive waste comes from nuclear power. Medical waste is a minute fraction of the radioactivity and most of that is very short-lasting (minutes to months).
So-called "low-level" radioactive waste includes:
Entire nuclear reactors
Tons of concrete permeated by radioactive gasses
Soil
Activated metal components and pipes from the reactor core
Control rods "poison" curtains
Massive steam generators through which radioactive water flows and in which radioactive rust accumulates
Intensely "loaded" resins and filters and evaporator bottoms from cleaning some of the radioactive particles from the cooling water before release into streams, lakes, oceans, rivers.
Radioactive booties and gloves might sound innocuous, but they can be contaminated with plutonium, cesium, strontium and dozens of other biologically dangerous radioactive elements.
How is "low-level" radioactive waste defined?
In the US, so-called "low-level" radioactive waste is all* the commercial nuclear waste, except high-level radioactive waste. The NRC designated Classes A, B, and C based on the concentrations of radionuclides, with A the least concentrated and B and C more concentrated. Greater Than Class C (GTCC) is even more concentrated and the US Department of Energy (DOE) assigned responsibility for disposal probably with high level waste.
High level waste is the irradiated ("spent") fuel from nuclear reactors, liquid and sludge from reprocessing irradiated fuel, and the solid into which it is converted. Uranium mining and mill tailings, generated to make nuclear power and weapons, are a separate category without stringent disposal requirements, not included in the "low-level" waste category, but a significant ongoing environmental threat. In Canada and most of Europe, their "low" category is similar to the US Class A and their "intermediate" level category is similar to the US Classes  B and C. (See NIRS "low-level" radioactive waste factsheet.)
Although no technology can isolate the waste as long as some of it is radioactively hazardous, the nuclear industry continues to create more.
How is "low-level" radioactive waste generated?
Nuclear power reactors generate nuclear waste and the reactors themselves become nuclear waste.
When uranium-235 atoms split in the nuclear reactor core, the energy that bound the atoms together is released and heats the water, which turns the turbines to make electricity.
The uranium breaks into other, lighter radioactive atoms–like cesium and strontium–fission products which are "high level" waste when they stay in the fuel rods but become "low-level" radioactive waste when they leak out. Some uranium atoms in fuel rods absorb neutrons and give off electrons, becoming heavier radioactive atoms such as plutonium-239. The same plutonium atom (or any atom) is "high level" waste as long as it remains in the fuel rod but becomes "low-level" waste when it leaks out of cracks or holes into the water circulating around the fuel.
Radioactive gasses that form from the uranium splitting can seep into pores of the concrete base-mat and dome where they decay to other radioactive elements. Metal parts in the reactor's core are bombarded with neutrons during nuclear power production and become activated radioactive metal. Radioactive elements leak out of the high-level waste—fuel rods—into the cooling water. The filters, resins and evaporator bottoms used to clean the cooling water become heavily loaded with the radioactive materials. These can deliver a lethal dose if one were  exposed unshielded, yet they are considered "low-level" radioactive waste.
How is nuclear power waste currently handled?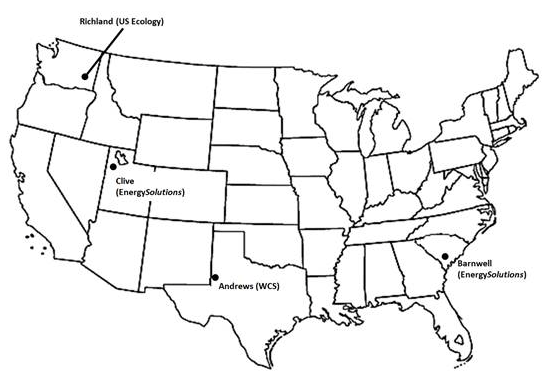 As nuclear power reactors and other nuclear fuel-chain facilities operate, the buildings and their parts, soil, tools, machinery and other materials become contaminated with radioactivity—some long-lasting (millions of years or more). The goal should be isolation from the environment and the public.
That waste is required to be in the possession of a licensed person and "disposed" at licensed radioactive shallow land burial sites (30-120 feet deep) which, as of 2020, operate in Washington, Utah, Texas and South Carolina. Closed sites are in New York, Illinois, Nevada, and Kentucky. The sites must be licensed by the federal or state government and have 100 years of institutional control after closure (even though some of the buried waste will stay dangerous for much longer). The licensed sites have legal allowable leak rates. There are additional waste sites for government wastes from making nuclear weapons.
Government and industry efforts to deregulate/weaken protections from waste
As we learn that radiation is more harmful than previously known, the government efforts are in the wrong direction. The NRC and DOE are pushing to reclassify some high level waste as "low-level" and to rename "low-level" waste as VLLW.
Advocates for health and safety work to prevent high level waste and other very long-lasting waste (like depleted uranium especially in Utah) from being allowed into the shallow land burial grounds. There are ongoing battles to stop the NRC from weakening the already-inadequate regulations for nuclear waste.
We must continue to work to prevent nuclear waste from being deregulated or sent to deregulated places such as regular garbage landfills or hazardous waste sites that are not licensed at all for radioactive wastes, especially man-made radioactive wastes, Once allowed in unlicensed landfills it could get incinerated or  into commercial recycling to make consumer goods and building supplies: zippers, frying pans, baby toys, metal, concrete, asphalt, plastics, wood, oil, and many others.
For decades, the nuclear power and weapons complex—government agencies, private contractors and companies—have been trying to get away with treating nuclear waste as if it is not radioactive. From the 1970s and possibly earlier, these efforts have been stopped by concerned members of the public and by other industries that would bear the burden of long-lasting radioactive dangers: landfill operators and recyclers, especially metal recyclers. (See NIRS report: Out of Control–On Purpose.)
After over a dozen tries, the NRC is back with Very Large Lies about nuclear Waste: VLLW
*The Low Level Radioactive Waste Policy Act Amendments of 1985 (LLRWPAA P.L. 99-240) applies to commercial nuclear waste mainly from nuclear power and much of the fuel chain industries that convert uranium into fuel for nuclear power. A miniscule amount of radioactivity comes from other regulated industries like nuclear research. The law made states responsible to provide for disposal but excluded high level radioactive waste, uranium mining and mill tailings, transuranics above 10 nanocuries per gram, Greater Than Class-C (GTCC) waste as defined in 10 CFR 61.55 and waste from the Department of Energy nuclear weapons facilities. Fracking waste is not regulated under the Atomic Energy Act or the LLRWPAA even though it can be immensely radioactive.
---
VLLW (Very Large Lies or Very Long-Lasting Waste)
What is VLLW?
Instead of trying to send a quarter or third of nuclear power's waste to regular trash and recycling for consumer goods, like the past efforts, now (2020) the NRC is proposing to release the waste at exponentially higher concentrations than proposed and rejected before. NRC would allow potentially all of the waste that has been going to licensed dumps to go to unlicensed, unregulated places. Their first target is landfills but there are no legal restrictions in the proposed "reinterpretation" of the NRC rules that would prevent incineration, recycling into consumer goods and building supplies or other reuses.
Instead of paying to manage these contaminated items as the nuclear waste it is, the NRC, the DOE and the nuclear industry are attempting to rename some or all of the "Low-Level" Radioactive Waste as "Very Low- Level" Waste or VLLW. They want to dispose of it in ordinary or hazardous waste landfills and/or incinerators or recycle it into consumer goods. Because it is expensive to detect and monitor radioactivity, they could get away with murder. Since VLLW could include pretty much all the "low-level" waste we have re-dubbed it Very Large Lies or Very Long-Lasting Nuclear Waste.
The 2020 NRC proposal is to let radioactive waste go to unregulated recipients by authorizing them as "specific exempt" and eligible to take enough nuclear waste to give off the same amount of radiation as licensed dumps, or even more than 2 and a half times more.
How hazardous is VLLW?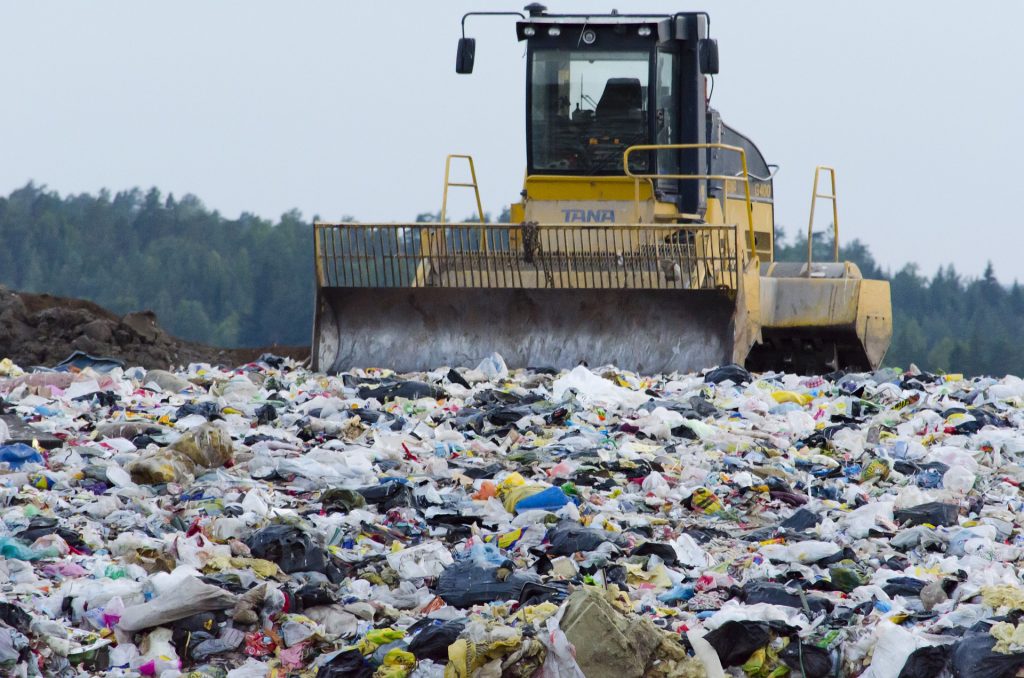 One in 500 people exposed for their lifetimes to the proposed VLLW release levels will get cancer according to Environmental Protection Agency risk calculations. Females and youth will be at even higher risk and combined exposure to other stressors will increase the hazard to humans.
The radioactive elements that have contaminated these items include:
Strontium (bone-seeker that causes leukemia and bone cancer); hazardous for 280-520 years
Cesium (muscle seeker that goes to the heart); hazardous for 300-600 years
Plutonium (powerful carcinogen concentrating in lungs, liver and bones) hazardous for 1/4 to 1/2 million years
Tritium (radioactive hydrogen can infiltrate our DNA/genetic material); hazardous for 120-240 years
Iodine-129 (concentrates in our thyroid glands); hazardous for 160-320 million years
Dozens of others, some very long-lasting–and biologically active.
These radioactive elements can cause cancer, reduced immunity, heart disease, birth defects and other serious health effects. Reclassifying radioactive waste as "very low-level waste" is essentially deregulating, abandoning, and deliberately releasing radioactive waste into our water, lives, communities and households, as landfills cannot isolate these wastes from our food chain and biosphere. Despite the NRC's claims in their February 14, 2018, Federal Register notice, the U.S. Environmental Protection Agency has admitted that all landfills leak. Despite NRC's claims in their March 6, 2020 Federal Register notice, there is no enforceable limit on the amount of radioactive waste that could go to "specific exempt" places with no nuclear controls at all.
Why was the term "VLLW" invented?
U.S. nuclear promoters and "regulators" have tried to get the public to agree to deregulation of radioactive waste dozens of times since the beginning of the Atomic Age. Their goal has been to shield the nuclear industry, the NRC, and the DOE against the enormous expense, responsibility, and liability that comes with isolating radioactive waste. They are putting at unnecessary risk worker and public health and safety, the environment, and the human gene pool. The U.S. public and other industries that would be taking the risks and liabilities have soundly defeated every known attempt to deregulate radioactive wastes. Let's not stop now!
Very small amounts of radioactive substances can do great, irreversible damage to the health of humans and Earth's ecosystems. For example, plutonium remains hazardous for a quarter to a half million years. John Gofman MD, PhD, a Manhattan Project scientist and former director of biomedical research at the DOE's Lawrence Livermore Laboratory, stated that even one-millionth of a gram of plutonium inhaled into the lung, will cause lung cancer within 20 years. Women and children are more susceptible to health impacts than men, who are also at risk.
This back-door deregulation could lead to contaminated scrap metal, concrete, asphalt, wood, plastics, soil and other contaminated items and materials getting into our recycled materials supply, our communities, and our homes. Once at a municipal landfill, there will be nothing to designate these materials as radioactive. There is nothing to protect people who collect or recycle "found" materials at dumps from taking VLLW nuclear waste–especially if a landfill agrees to take the waste, for presumably some increased profit. Some waste will sneak into landfills and recycling centers because gamma-detecting scanners used at landfills cannot detect alpha or beta radiation which do more damage once in the body. Landfills with methane burners may release tritium and other radioactive substances into the air.
---
Take action:
2020 resources:
Additional resources: