FOR IMMEDIATE RELEASE: WEDNESDAY, March 30, 2022
GROUPS DEMONSTRATE IN SUPPORT OF SANCTIONS ON RUSSIAN URANIUM
Activists gathered near the U.S. Capitol on Wednesday to demand President Biden and Congress Ban Imports of Russian Uranium into the United States
U.S. CORPORATIONS BUYING RUSSIAN URANIUM ARE FUNDING PUTIN'S WAR ON UKRAINE
Washington D.C. – Activists affiliated with the Nuclear Information and Resource Service (NIRS) demonstrated near the Capitol Building on Wednesday in protest of U.S. imports of Russian uranium and called on President Biden to extend sanctions to Rosatom, its subsidiaries, and its corporate leadership by banning imports of Russian nuclear fuel.
A bus bearing the message of the activist's campaign for the U.S. to extend sanctions to the Russia nuclear industry stopped at the demonstration.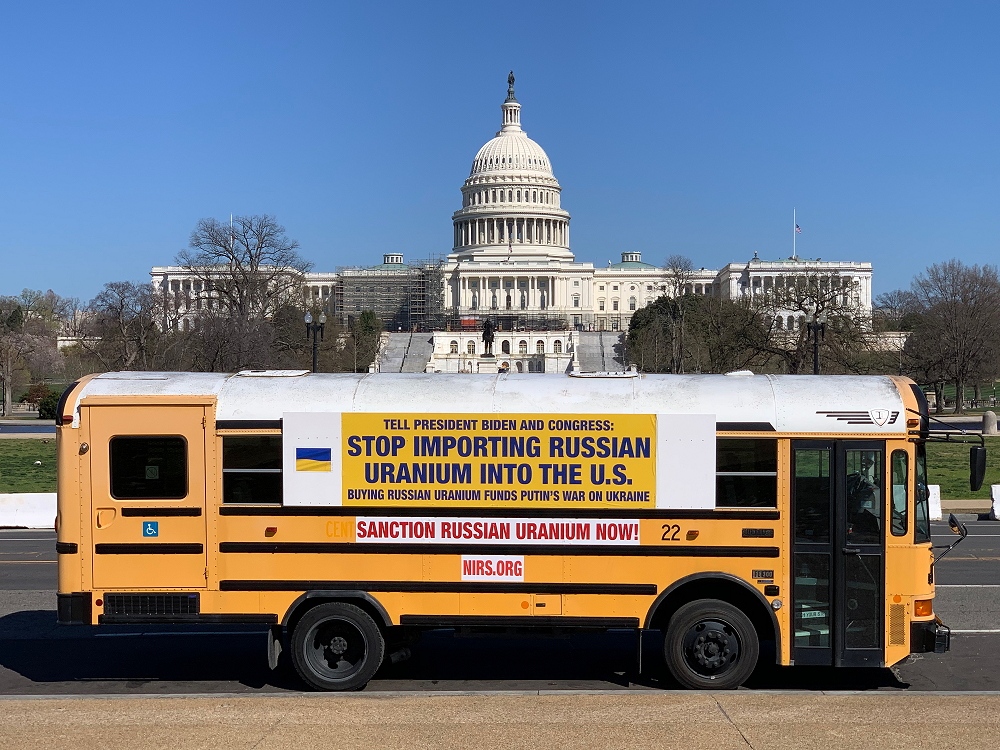 Diane D'Arrigo of the Nuclear Information and Resource Service said, "The U.S. must put more pressure on Russia to end its war and remove its forces from Ukraine. Sanctioning Rosatom and Russian uranium is necessary. It will undercut a major economic engine and political arm of Russia. And it won't affect Americans' pocketbooks or our economy. This is a no-brainer, President Biden."
U.S. corporations buying Russian uranium are funding Putin's war on Ukraine. The purpose of sanctions is to short-circuit Russia's ability to finance its war on Ukraine, and to isolate Russia economically and diplomatically, to the maximum extent possible. Just as it has done with fossil fuels, Russia has used its nuclear industry to exert political influence over other countries through dependence on its energy supplies and infrastructure. NIRS and their supporters will continue pushing the U.S. to stop sending our electricity dollars to finance Russia's war on Ukraine, just as the U.S. has stopped buying Russian fossil fuels for our cars and power plants.
More information about the need for the U.S. to extend sanctions to the Russian nuclear industry can be found at www.greenworld.nirs.org/.
More photos can be found here.
MEDIA CONTACT: Tim Judson, NIRS 301-270-6477 or timj@nirs.org