Your support and activism make our work possible. Thank you for both.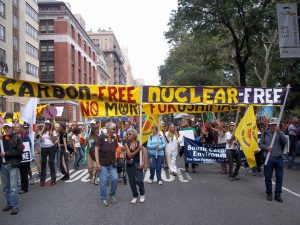 We have worked for over forty years to protect people and the environment from the dangers of nuclear energy and radioactive waste, and to make this world a safe, sustainable place for life to flourish.
Because of the very nature of nuclear power, the value of NIRS's work inherently belongs to future generations. We need to phase out nuclear power in our lifetimes, but because of its million-year burden of radioactive waste, the world will need a vital, grassroots safe energy movement for decades to come. Securing that future is at the core of our mission.
Please help ensure the long-term sustainability of NIRS. Including a gift to NIRS in your bequests or trusts is a simple, secure way to make continuing the work for a safe, sustainable, nuclear-free world part of your legacy.
If you would like to know more, just contact us at your convenience, and we can give you all of the information you need. The first step is to get in touch with Denise Jakobsberg, our Administrative Coordinator, by phone (301-270-6477) or email nirs@nirs.org.
Thank you so much for your support, and all that you do,
Tim Judson
Executive Director
Nuclear Information and Resource Service