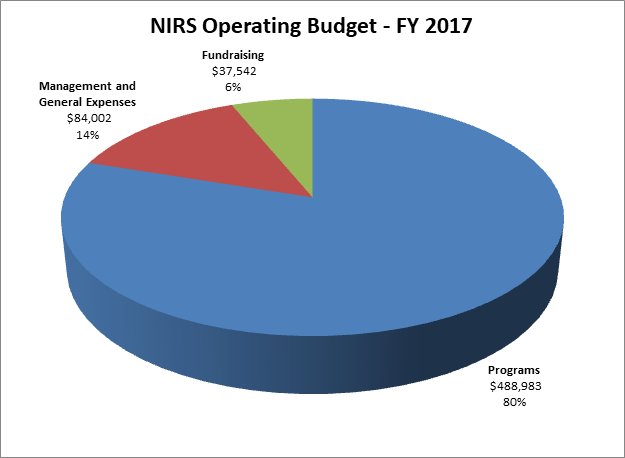 Nuclear Information and Resource Service is a 501(c)(3) organization. All contributions to NIRS are tax-deductible and are greatly appreciated.
NIRS prides itself on running a lean, effective operation in compliance with all relevant laws and best practices. For fiscal year 2012 (February 2, 2012-January 31, 2013), our certified financial audit showed that 84% of all contributions were spent directly for our program work. Administrative costs were at 11% and fundraising costs were about 5%. Our ratios have been similar over the years.
Our 2014 operating budget (February 1, 2014—January 31, 2015) is $734,500. About 40% of our funds are expected to come from foundations; tax-deductible contributions from individuals and small businesses are needed to provide the rest. We rely upon the generosity and support of people across the country to maintain our effectiveness, outreach and necessary services to grassroots activists everywhere. We can't do it without you—we know that and we gratefully appreciate every donation, large or small.
---
Donations may be made for general support for NIRS, or directed to a specific project/campaign.
Current projects include
• Campaign to Close Dangerous and Uneconomic Reactors
• Nuclear is Not the Answer: Nuclear Power and Climate
• Preventing New Reactor Construction and Nuclear Subsidies
• Campaign to Close Indian Point
• Campaign to Close Washington's Columbia Reactor
• West Valley, NY clean-up/reprocessing project
• High-Level Waste Policy–Preventing Mobile Chernobyl & Fukushima Freeways
• "Low-Level" waste and "recycling" of radioactive materials
• Emergency Planning Campaign
• GreenWorld: NIRS' daily blog chronicling the transition to a nuclear-free, carbon-free energy system
• Disproportionate effects of radiation, especially on women and children
• NIRS Southeast
Project proposals are available to interested funders (including individual donors). New projects and proposals arise as necessary. Many of our projects/campaigns are collaborative efforts with other organizations. Suggestions for projects/campaigns are welcome. Please contact Tim Judson, Executive Director, timj@nirs.org or Michael Mariotte, President, nirs@nirs.org, 301-270-6477 for more information about funding proposals and NIRS projects/campaigns.
---
Financial Statements
---
Substantial Support
Every donation to NIRS, of any size, is gratefully appreciated. Our members and supporters make our work possible. We would like to recognize and publicly thank those who have been able to provide substantial support for NIRS. Your contributions have been both generous and essential in making NIRS the highly effective and rapidly growing organization that it is.
Here is a list of NIRS' large donors over the past five years ($10,000 or more during this period), in no particular order.
craigslist Charitable Fund
Mary R. Morgan
Fred Stanback
Rockefeller Financial Services
The Hahn Foundation
Civil Society Institute
Taupo Fund
Susan Hoch
Ralph Nader
Safety Systems Foundation
Deer Creek Foundation
Tides Foundation
2032 Trust
Thomas and Nancy Florsheim
Boston Foundation
Guacamole Fund
Aria Foundation
Normandie Foundation
New Mexico Community Foundation
New World Foundation
Patagonia
Geoff and Leslie Oelsner
David and Susan Horowitz Foundation
Hildegarde Hannum
William DeCamp
B. Wardlaw
Friederike Merck
Musicians United for Safe Energy
Noble Foundation
Mustard Seed Fund
Bonnie Raitt
Graham Nash
Jackson Browne
Anonymous-1, California
Anonymous-2, California
Anonymous, Massachusetts
Anonymous, Missouri