Russia's invasion of Ukraine is extremely distressing and an unjustified act of aggression. NIRS expresses our solidarity and support for the Ukrainian people, their safety and well-being, and their right to sovereignty and self-determination.
We will be updating this page with breaking news and resources.
Nuclear Power Plants in Ukraine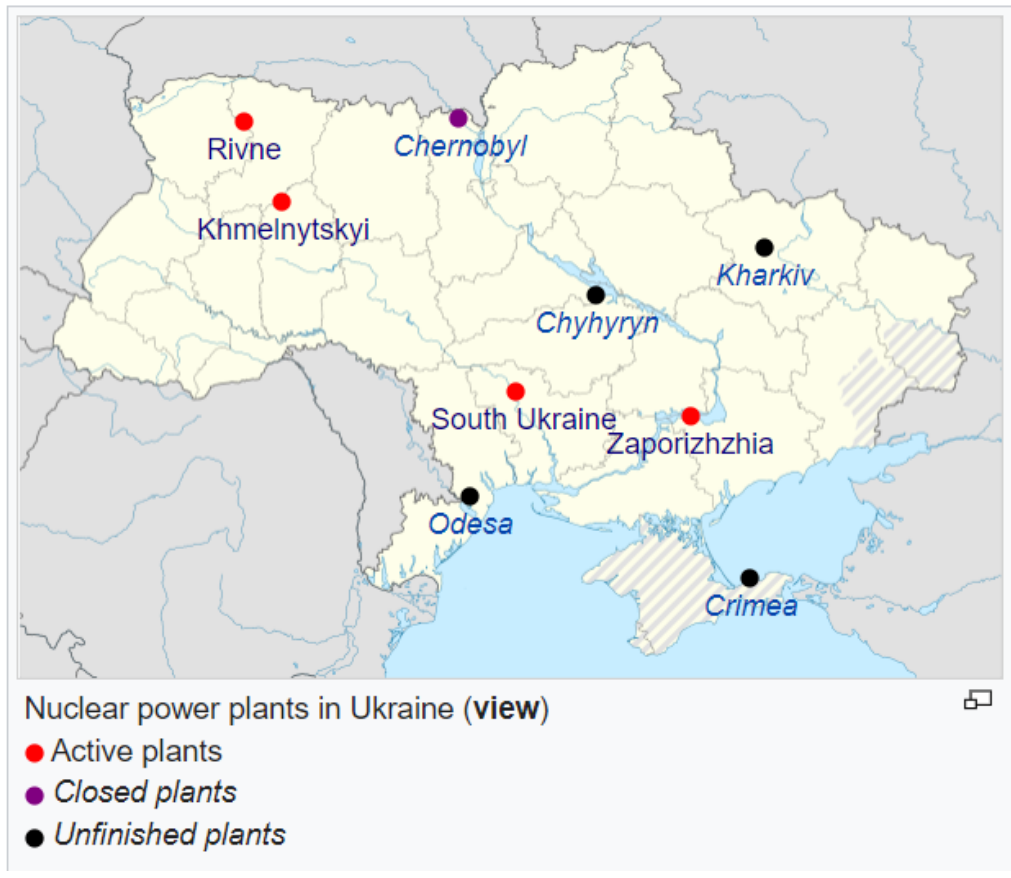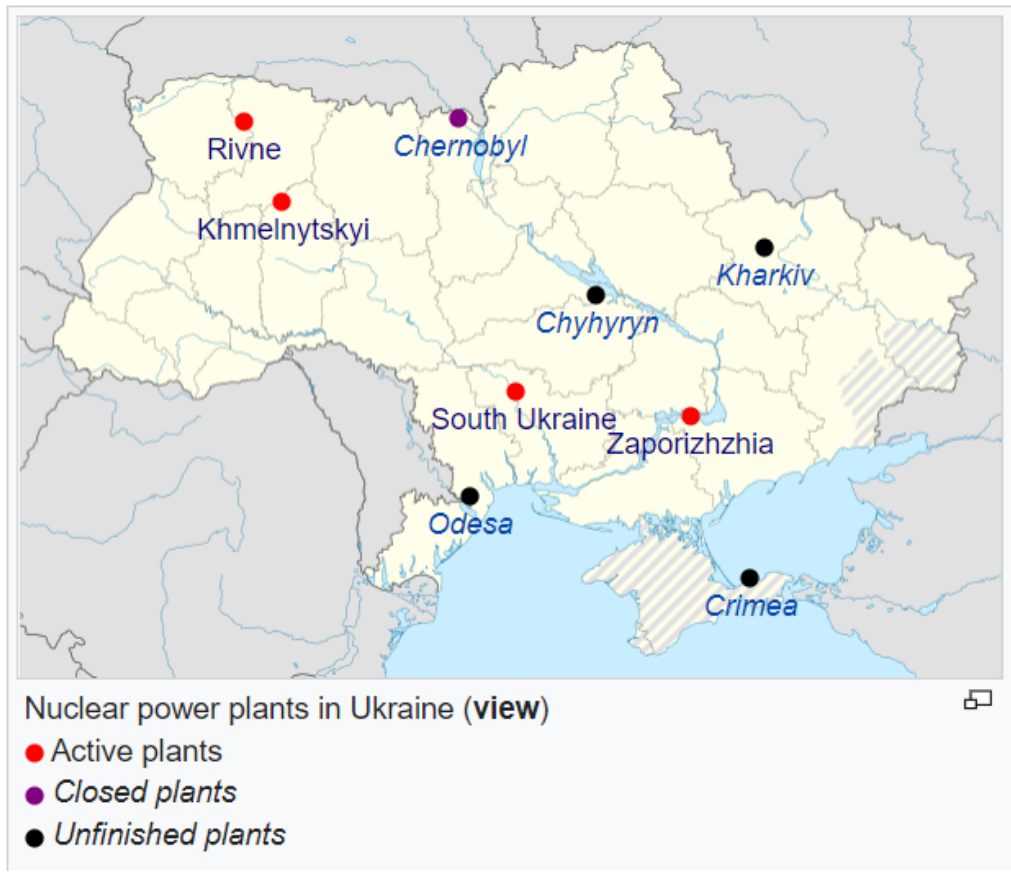 Ukraine is heavily reliant on nuclear energy. The country has 15 reactors in 4 power plants, generating around half of Ukraine's electricity.
Also called Yuzhnoukrainsk Nuclear Power Plant
Located near the city of Yuzhnoukrainsk in Mykolaiv province, about 350 kilometers (220 miles) south of Kyiv. It is the second largest of the country's five nuclear power stations. It is part of the South Ukrainian Energy Complex, along with the Tashlyk Pumped-Storage Power Plant and Oleksandrivska hydroelectric power station.
Three VVER-1000 pressurized water reactors
Net generation capacity = 2,850 megawatts (MW)
The Rivne Nuclear Power Plant also called Rovno is a nuclear power plant in Varash, Rivne Oblast, Ukraine.
The Rivne Nuclear Power Station were the first VVER-400 reactors to be constructed in Ukraine.
four reactors (2 VVER-440 ; 2 VVER-1000)
Nameplate capacity = 2,657 MW
| | | | | |
| --- | --- | --- | --- | --- |
| Station | Type | Net capacity | Initial criticality | Grid date |
| Unit 1 | VVER-440/213 | 361 MWe | Dec 1980 | Sep 1981 |
| Unit 2 | VVER-440/213 | 384 MWe | Dec 1981 | Jul 1982 |
| Unit 3 | VVER-1000/320 | 950 MWe | Nov 1986 | May 1987 |
| Unit 4 | VVER-1000/320 | 950 MWe | Sep 2004 | Oct 2004 |
| Unit 5 (suspended plan) | VVER-1000/320 | 950 MWe | N/A | N/A |
Located in Netishyn, Khmelnytskyi, Ukraine.
Two VVER-1000 reactors are operational, each generating 1000 MW (net) of electricity. Construction of the first reactor started in 1981 and the first unit was put in operation in late 1987. Construction of the second reactor started in 1983 with plans to finish it in 1991. In 1990, however, construction was stopped as part of a moratorium on new plant construction. Construction was completed only in August 2004 after the moratorium was lifted.
Two more VVER-1000 reactors are currently under construction. Construction of the third reactor started in September 1985 and the fourth reactor in June 1986.
Reactor type: VVER
Units operational: 2 x 1,000 MW
Units under constuction: 2 x 1,000 MW
Nameplate capacity= 2,000 MW
The Zaporizhzhia Nuclear Power Station in Enerhodar, Ukraine, is the largest nuclear power plant in Europe and among the10 largest in the world.
The plant is located in Southeastern Ukraine near the city of Enerhodar, on the banks of the Kakhovka Reservoir on the Dnieper river. It has 6 VVER-1000 pressurized light water nuclear reactors (PWR), each generating 950 MWe, for a total power output of 5,700 MWe. The first five were successively brought online between 1985 and 1989, and the sixth was added in 1995.
The plant generates nearly half of the country's electricity derived from nuclear power and more than a fifth of total electricity generated in Ukraine.
Zaporizhzhia Updates & Info
Chernobyl
Soon after launching an invasion on Feb. 24, Russian forces took control of the territory around the now-defunct power plant that was the site of the world's worst nuclear accident in 1986.
Blogs
Articles and Analysis
Official Sources
Reactor Information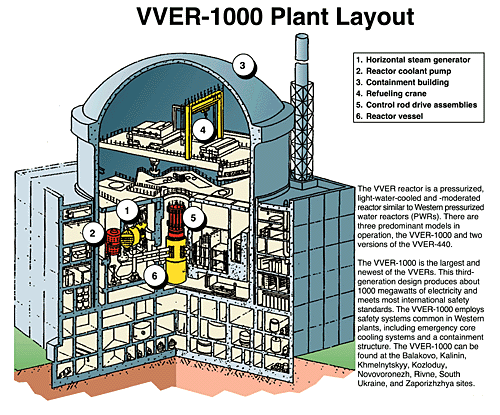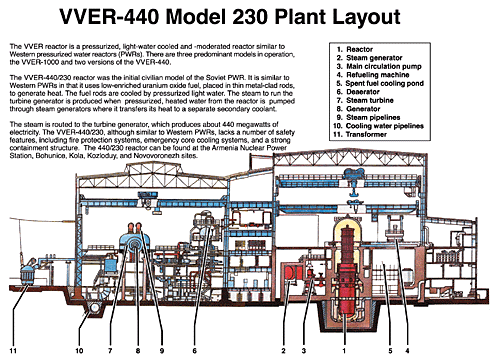 Call on the Biden Administration, Congress, and the Department of Energy to Sanction the Russian nuclear industry.