Over the last few weeks, we have shared a series of blog posts on the nuclear policy complications of the Russian war on Ukraine. This horrendous and distressing war must end and Russia must withdraw its forces from the country of Ukraine immediately, so that we can all begin the complex work of establishing peace in the region. NIRS stands with the occupied citizens of Ukraine and has joined our allies in calling for the US to extend sanctions to the Russian nuclear industry to deter the violence and take a stand against nuclear sites being weaponized in wartime.
We have addressed the political and economic realities of sanctioning the Russian nuclear industry and explained how banning imports of Russian uranium won't impact the US energy system, nor will it necessitate an expansion of domestic uranium mining and production. While the US remains in business with Rosatom, our electricity dollars are helping to finance the Russian government and its war on Ukraine. That has to stop.The US must put more pressure on Russia to end its war and remove its forces from Ukraine. Sanctioning Rosatom and Russian uranium is a no-brainer:  It will undercut a major economic engine and political arm of Russia and it won't affect Americans' pocketbooks or our economy. Sanctioning Rosatom and its subsidiaries is a critical and immediate step the US must take to stand against Russian aggression and demand an end to this war.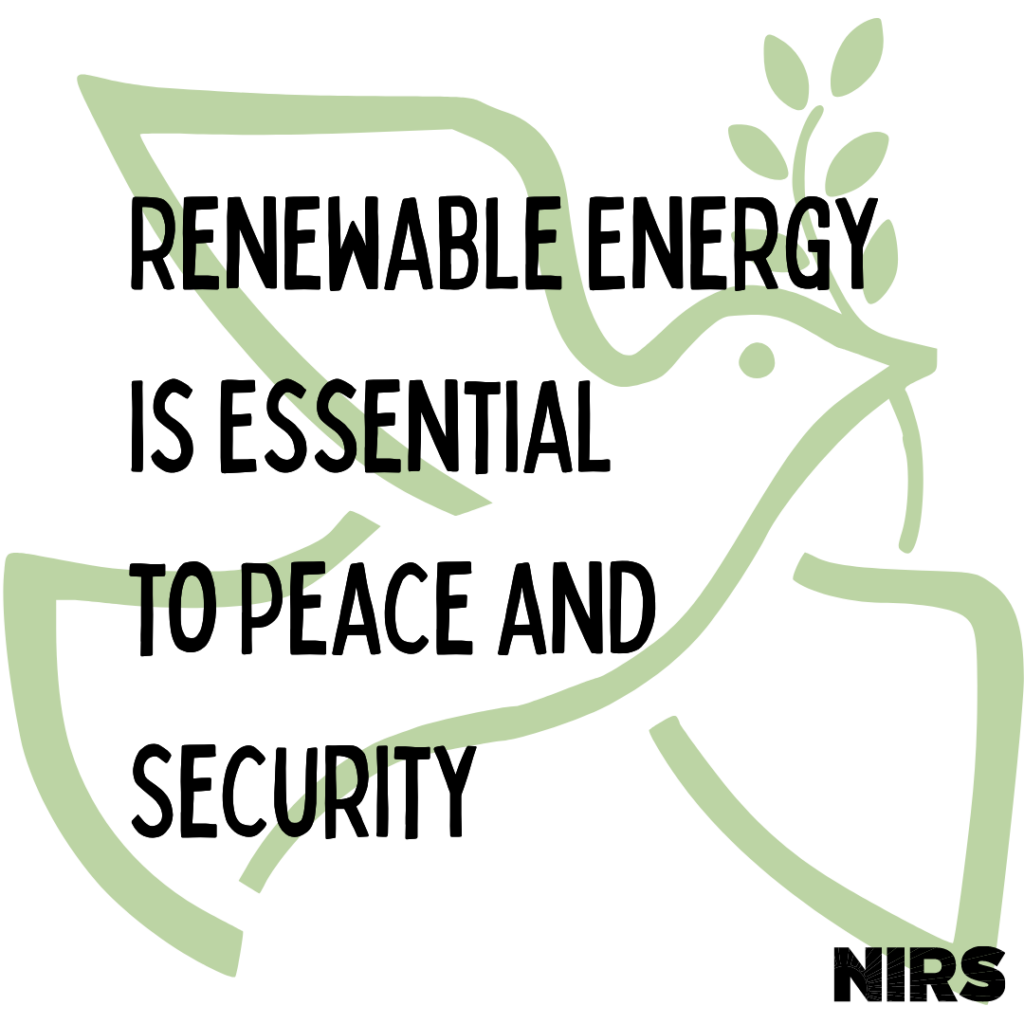 But beyond the immediate crisis, the global shockwaves of the war in Ukraine tell us a lot about the vulnerabilities of our energy system. The war and its consequences show us, more than ever, that the status quo of relying on nuclear and fossil fuels is untenable. Of course, conversations about energy independence are not new. Violent conflicts over oil and gas and wars with dire energy consequences are also not new. Access to affordable and reliable energy in a fossil fueled world has always been dependent on a slate of international factors that are volatile and destabilizing.
But as the war in Ukraine causes gas prices to skyrocket, poses deeply troubling risks to Europe's nuclear safety, and coincides with increasingly dire warnings about climate change, concerns about energy security and energy independence are more visceral than ever. The current cascading crisis in Ukraine makes it positively clear that we must invest in a secure, reliable, resilient, decentralized, democratic, and 100% clean and renewable energy system.
Energy independence and climate change are both issues of national security. A recent article in Foreign Policy argues:
"As climate change continues to destabilize at-risk regions worldwide, threatening to draw the United States into more protracted, international conflicts, the administration needs to do more to treat climate change as a matter of national security rather than as just an environmental concern—and to move toward true energy independence in the process."
Various US government departments involved in security, including the Pentagon and the Department of Defense, have formally recognized climate change as the security threat it is, and have called for rapid decreases in domestic emissions, decarbonizing the military, and priority investments in renewables. While the Biden administration's defense department has acknowledged the security problems with fossil fuels, the Ukraine conflict demonstrates the frightening security implications of nuclear power infrastructure, where radioactive materials at a variety of sites – Chornobyl, Zaporizhzhia, the NSA "Neutron Source" research reactor, and even waste sites – are being weaponized in wartime. Both fossil fuels and nuclear power have immense drawbacks in regards to national security, on top of all the environmental, social, justice, and financial issues that plague these dirty energies.
With the cost, accessibility, supply chains, and global markets of fossil fuels thrown into deep uncertainty and the moral implications of importing and accessing nuclear fuels exacerbated by Russia's war, we must take this opportunity to expedite the desperately-needed transition to a fully renewable energy system. Domestic production of fossil fuels and nuclear power will not protect us from the devastating effects of climate change and radioactive fallout. We must NOT allow corrupt industries and the politicians in their pockets to either excuse Russian nuclear from sanctions or to more deeply entrench the dirty, dangerous, and vulnerable status quo. Either path will sabotage our dwindling chances for a clean, just, and sustainable future. We cannot allow the nuclear industry to take advantage of US bans on Russian uranium to hoodwink us into unjust and dirty expansions of the domestic uranium industry on Indigenous lands and continuing the violent legacy of radioactive industry in the US 
According to the principles of energy democracy, safe and secure communities rely on affordable and reliable energy that is owned and controlled by members of that community. Big Oil and Big Nuclear do not fit the bill. Further, no one has wars over solar power. Windmills won't cause an environmental disaster. No country can cut another country off from the sun and the wind. No one can turn renewable energy into an atomic bomb. Scalable and decentralized renewable energy infrastructure builds resilient communities. Renewables provide clean, carbon-free, radiation-free energy and protect the environment from carbon pollution and climate change.
After a century of wars for oil and nuclear devastation, renewable energy is the best investment we can make in a peaceful present and future. This is what the Build Back Better Act and all future climate legislation must do – invest in resilient energy infrastructure that supports communities, justice, peace, and climate action. Nuclear and fossil fuels are too dangerous, risky, expensive, and fraught with global vulnerabilities on which to stake our future.
We must end this war, and we must build a more peaceful world. President Biden and Congressional leaders: Sanction Rosatom, and let us finally make the shift to safer, sustainable, renewable energy.