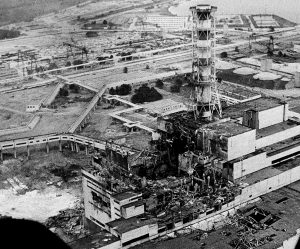 A major television miniseries about the Chernobyl nuclear disaster is showing on HBO, starting May 6, 2019. NIRS hopes that the series is true to the facts, experiences, and legacies of what remains one of the world's worst industrial and environmental disasters. Unfortunately, many governmental and nuclear industry bodies continue to downplay and minimize the consequences of Chernobyl.
We provide this page to supplement the fictional retelling of the disaster with factual information to put the story in context, and to show its ongoing relevance. From the previews, the Chernobyl miniseries appears to convey the horror of the disaster and its immediate impacts; the heroism of the first responders, liquidators, and experts who worked to contain it; and the fumbling response of the government to handle a catastrophe of this kind. Nevertheless, as a work of fiction, there will likely be some inaccuracies. Also, there will likely be a lot of misinformation and criticism of the depiction of the disaster by proponents of nuclear power, because the reality of Chernobyl remains an inconvenient truth for the industry.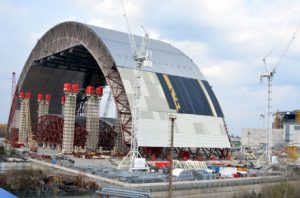 Over the last 33 years, NIRS has worked with activists and organizations in Ukraine, Russia, and other countries that bore the greatest impacts of the radioactive contamination. Our staff have witnessed those impacts first-hand, touring the country and the uninhabitable exclusion zone around the reactor site. We also helped organize a major international conference in Kyiv (Kiev), Ukraine, on the 20th anniversary, in 2006.
Follow us on twitter and facebook for commentary on the series and background on details in each episode.
Information Resources
Chernobyl Timeline of Events
Health Impacts
Ecological Impacts
Current State of Chernobyl
Common Myths and Misconceptions
Highlights from our twitter commentary
1. Chernobyl Timeline of Events
The Nuclear Monitor issue #724 included a detailed sequence of events before, during, and after the Chernobyl disaster. It was published on March 11, 2011, purely by coincidence, the day that the Fukushima disaster started.
2. Health Impacts
3. Ecological Impacts
4. Current State of the Chernobyl Site
Chernobyl: The Past, The Present, The Future — 2016 video presentation by nuclear researcher Lucas Hixson, who had recently returned from several months of work at the Chernobyl reactor site.
5. Common Myths and Misconceptions
And there are more to come!
6. Highlights from NIRS's twitter commentary
Episode 1: Why the nurse asks about "iodine pills"
KI protects the #thyroid and pre-distribution is recommended as a key emergency planning measure. There are many other radioisotopes in a #meltdown, with many other health impacts, but KI only protects the thyroid. #Chernobyl

— NIRS (@nirsnet) May 7, 2019
Episode 1: Effects of radiation exposure
2 / The damage to the skin is a sign of internal tissue damage, as well. That is why the characters also were spontaneously bleeding and coughing up and vomiting blood: internal organs and blood vessels start to fall apart under intense exposure to ionizing radiation. #Chernobyl

— NIRS (@nirsnet) May 8, 2019
Episode 1: What happened to the forest
The Red Forest is part of the #Chernobyl exclusion zone. The trees became so radioactive that they were plowed under and buried. There are ongoing concerns about the radioisotopes spreading through the ecosystem, and of being released in forest fires. https://t.co/ZczZ4pcFbp

— NIRS (@nirsnet) May 8, 2019