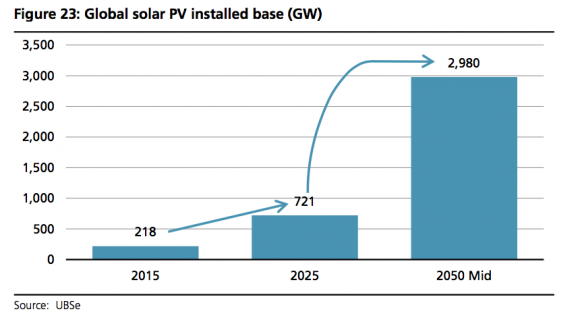 A key factor in our belief that a nuclear-free, carbon-free energy system is not only inevitable but will be here sooner than nearly everyone currently believes, is not just the factual evidence of its mind-boggling, rocketing growth. Renewables are growing from a very small percentage of generating capacity–it would take many years of expansion at even their present staggering rate for them to play a major role in providing the world's electricity. But that well-documented growth is the necessary starting point.
The more compelling rationale for our belief is, as we've reported in these pages numerous times, the world's major investment banks have bought into the clean energy future–both rhetorically and with their resources–and have largely abandoned new investment in nuclear power and fossil fuels.
These are three of the top five viewed posts on GreenWorld since our inception:
*Goldman Sachs sees a solar future for the U.S.–and that has nuclear utilities running scared.
*Within 2 years, Deutsche Bank says rooftop solar will be the cheaper option for everyone
*Citigroup: The revolution will not be televised
We've also written about Bloomberg and other investment firms and analysts, all of which have come to the clean energy conclusion.
Today it's investment giant UBS' turn. This week, UBS released a report predicting that within a decade, 10% of the world's electricity will be solar-powered and, more importantly, that the growth rate of solar will only continue to accelerate.
Indeed, UBS says solar power will be the "default" energy technology–within years. "We believe solar will eventually replace nuclear and coal, and [be] establish[ed] as the default technology of the future to generate and supply electricity," wrote the analysts.
Despite the stated support for clean energy by other investment houses, UBS thinks most remain too pessimistic, or unaware, of the true ability of solar power to transform our energy system: Their conclusion: "We believe the financial community and most industry experts largely underestimate the global solar capacity growth, as falling costs, supportive regulation and the opening up of new solar markets seem to go largely unnoticed."
The reference to "industry experts" is certainly dead-on; most so-called experts continue to downplay solar–and other renewables as well–possibly because they still can't get beyond the antiquated concept of "baseload" power. Baseload power is not a holy grail, it was a means to an end: providing electricity reliably 24/7/365. And in the 20th century, that system was essential. But a renewable-powered 21st century grid, coupled with an ongoing focus on energy efficiency, can also provide reliable electricity 24/7/365–and can do it cleaner, cheaper and safer than the nuclear and fossil fuel-dominated baseload model.
One key to the renewable-powered system is storage, and the advances there are as astonishing as those in renewable generation. It was just April 30 that Elon Musk announced Tesla's PowerWall battery storage system for homes and larger uses. Only six weeks later, Tesla has doubled the output capacity of its basic home PowerWall system–at no extra cost to consumers. Yet the original PowerWall was so groundbreaking–especially on price–that a DOE National Lab director this week said, "This is the future, now."
Meanwhile, the U.N.'s too-little-known International Renewable Energy Agency (IRENA) this week released a major new report on storage in an effort to jump-start further developments in storage technology.
Finally, there is another compelling reason to believe the days of nuclear and fossil fuel power are coming to a rapid end. And that may be the most surprising reason of all, given the frequent disparaging characterization of the anti-nuclear movement as a bunch of old hippies. While there is at least a nugget of truth in that (which doesn't, by the way, mean we're wrong; in fact, we were just early), the reality is that the most anti-nuclear sector of society today is the young. According to a new poll released this week, "Just 1% of those aged between 18 and 24 were in favor of nuclear power compared to 24% of those aged over 70."
Every age group favors solar power–and a lot of it–but that level of non-support for nuclear means it is exactly what the big investment firms have figured out: a dead-end technology with, as Johnny Rotten once sang to us old hippies and punks, "no future."
Michael Mariotte
June 12, 2015
Permalink: https://www.nirs.org/ubs-solar-will-be-the-default/
Your contributions make publication of GreenWorld possible. If you value GreenWorld, please make a tax-deductible donation here and ensure our continued publication. We gratefully appreciate every donation of any size.
Comments are welcome on all GreenWorld posts! Say your piece. Start a discussion. Don't be shy; this blog is for you.
If you'd like to receive GreenWorld via e-mail, send your name and e-mail address to nirs@nirs.org and we'll send you an invitation. Note that the invitation will come from a GreenWorld@wordpress.com address and not a nirs.org address, so watch for it. Or just put your e-mail address into the box in the right-hand column.
If you like GreenWorld, help us reach more people. Just use the icons below to "like" our posts and to share them on the various social networking sites you use. And if you don't like GreenWorld, please let us know that too. Send an e-mail with your comments/complaints/compliments to nirs@nirs.org. Thank you!
GreenWorld is crossposted on tumblr at https://www.tumblr.com/blog/nirsnet