There is no denying that the climate crisis is here. The crisis unfolds on the front pages and the endless scroll of our feeds. In recent weeks, record-smashing heatwaves in the Pacific Northwest met scorching droughts, wildfires, and warming waters across the west, another brutal wave of extreme weather that has become the new normal. We are finding out the consequences of not taking action ten, twenty, thirty years ago to cut emissions and transform our energy system.
We have no time to waste and, though it can be hard not to, no time to despair. We can invest in the renewable energy future we need – and we must. But, we cannot afford to waste time, money, resources, and political will on technologies and policies that impede the pace of decarbonization, involve significant uncertainties, or further compromise the natural environment. We must not be diverted by false solutions to climate change – costly, speculative distractions such as a carbon tax, carbon capture and storage, geoengineering, and, of course, nuclear power.
Wrangling carbon emissions and taking swift, effective action to mitigate and adapt to the climatic changes underway is the most urgent task facing Congress and the White House. The future of justice, jobs, healthcare, infrastructure, national security, and much more depend on our leaders taking immediate, ambitious, just, equitable, and smart climate action. Leaders in Congress and the White House have made campaign promises and begun discussing the necessary efforts to act on climate change, environmental justice, and sustainability and prosperity equitably distributed. 
But, as this summer's climate chaos continues to erupt, plots to bail out nuclear power as part of a national clean energy standard have been making their way through Congress, led by Senators Manchin (D-WV), Cardin (D-MD), and others. The bipartisan infrastructure bill announced two weeks ago designates nearly $10 billion to prop up dangerous, old nuclear reactors and another proposal to give tax credits to nuclear reactors could cost $50 billion over the next ten years. These nuclear bailouts would perpetuate harm to vulnerable communities throughout the nuclear fuel chain while blocking effective progress towards climate action. We can't let the nuclear industry steal resources from actual climate solutions within reach to subsidize dirty and unjust energy systems that fail to enact the just transition we need and deserve. 
Nuclear Energy is Dirty 
Current proposals for bailing out nuclear power are predicated on the false notion that nuclear energy is "clean." The nuclear power industry and its governmental allies spend tens of millions of dollars annually to promote atomic power as an "emissions-free" energy source with the goal of preventing the shutdown of dangerous old reactors that cannot compete economically with clean and renewable energy sources like wind and solar power. While atomic reactors themselves release radioactive pollution rather than emit greenhouse gases, the nuclear fuel chain produces significant greenhouse emissions. Besides reactor operation, the chain includes uranium mining, milling, processing, enrichment, fuel fabrication, and long-term radioactive waste storage, all of which are essential components of nuclear power. At each of these steps, transport, construction, and operation of nuclear facilities results in significant greenhouse gas emissions, in addition to radioactive hazards and environmental justice concerns. Taken together, the lifecycle emissions of the nuclear fuel chain are more than double solar power lifecycle emissions and some six times higher than wind power—not to mention emissions-free energy efficiency technologies.
Bailing out nuclear power has proven ineffective at addressing climate change, but that's not all. A bailout would create another generation of lethal high-level radioactive waste, contribute to further proliferation of nuclear weapons materials, risk a Chernobyl or Fukushima-scale accident once every decade or so, and, perhaps most significantly, obstruct meaningful climate change policies.
Phase Out or Bailout?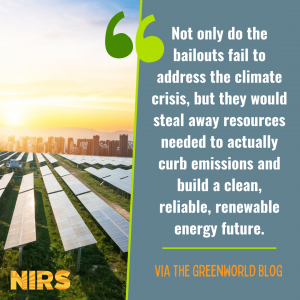 Not only would the bailouts currently being pushed in Congress fail to address the climate crisis, but they would steal away resources needed to actually curb emissions and build a clean, reliable, renewable energy future. The choice to spend billions propping up aging, dirty, and dangerous nuclear infrastructure is the choice not to invest those billions in renewable energy, energy efficiency measures, and other climate solutions. There are enormous climate opportunity costs to pursuing nuclear power and extending the operational life of aging reactors, as current bailout proposals would do. 
Worse, bailing out nuclear power now just keeps us on the hook for future bailouts, another kick of the can down the road. Consider: what happens in ten years when today's proposed nuclear bailouts run out and we still haven't invested in the infrastructure to transition away from nuclear energy and fossil fuels? We already know. The communities sweltering in the Pacific Northwest, breathing smoke from California's fires, and bearing the burden of decades of radioactive waste already know. The communities bracing for the next blackout, hurricane, high tide, wildfire, flood, and water shortage while still recovering from the last one already know. We cannot afford to choose that future. 
Nuclear bailouts fail on all counts to address climate change and would only leave us further and further behind in the urgent race to solve climate change. Bailing out nuclear power would be a choice to hold on tight to the failing status quo and forgo the opportunity to create a better, cleaner, more equitable energy future. Thanks to mounting pressure from the grassroots and growing momentum in Congress and the White House to invest in jobs, climate, and justice, we finally have the opportunity we have been working towards to make real progress in the fight against climate change. This is an opportunity we must seize for the sake of a just future with a liveable climate and prosperous economy.  And in fact, phasing out nuclear reactors is part of the solution. As seen in places like Germany and California, phasing out nuclear reactors creates opportunities to accelerate renewable energy development, support decarbonization, and optimize outcomes for workers and local communities. What the climate needs is a nuclear phase-out, not a bailout. 
Take Action! 
We already know the consequences of idling in the status quo as the climate warms all around us. Bailing out the nuclear industry is an unjustifiable waste of time and resources in the fight against climate change. A bailout of the nuclear industry would violate the promises made by Congress and the Biden Administration to finally invest in our future – in justice, in jobs, and in climate solutions. We must demand that our leaders keep their promises and choose to invest in the clean energy future we deserve. 
Tell Congress and the White House NO to nuclear bailouts and YES to climate solutions!


Our leaders need to hear from us:  we want a clean, renewable energy future and the jobs that come with it. Stop bailing out a failing, dirty, crooked industry that poisons our environment and vulnerable communities and start investing in a safe, healthy, sustainable American future.
Hannah Smay, Digital Organizer