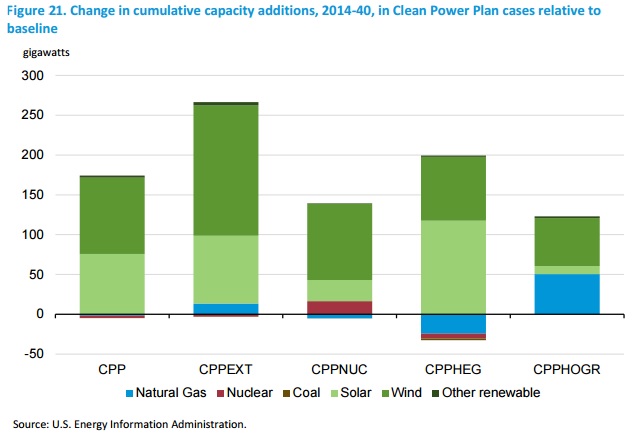 The Environmental Protection Agency has not yet released the final version of its Clean Power Plan (CPP), but reportedly has sent it to the White House for final review and the public release is expected in August.
But the Department of Energy's Energy Information Administration (EIA), which typically has vastly underestimated and under-projected the growth of renewables over the years, recently released projections of how much carbon emission reductions the EPA's Clean Power Plan would produce, based on several different scenarios.
And, as analyzed by Utility Dive, perhaps the most significant finding is that nuclear power does not help achieve greater carbon emission reductions. Even a scenario meant to encourage new nuclear power would have no effect on the reduction of carbon emissions (although it would have a large effect on the increase of radioactive emissions). So much for the nuclear industry's pitch for nuclear power as a climate solution.
Under that scenario, nuclear power would grow by about 20 Gigawatts, or about 18-20 large reactors, by 2040 (assuming the plan is extended from its current date of 2030). Under the baseline scenario of the draft CPP released last year, nuclear is actually expected to decrease by a few Gigawatts. Yet there is almost no difference in the level of carbon reductions in the two different scenarios; in fact, EIA predicts both scenarios result in the same 30% decrease in emissions by 2040.
One critical reason is, as Utility Dive explains, under the high nuclear scenario (CPPNUC in the graph at the top of the page), "EIA predicts that counting nuclear for CPP compliance (CPPNUC) or increasing domestic oil and gas production (CPPHOGR) would significantly hamper solar growth." Given that EIA has consistently underestimated solar power over the years, solar growth without nuclear could expected to be even higher than EIA projects, and thus so would the reduction in carbon emissions be greater without nuclear.
In other words, increased investment in nuclear power means decreased investment in cleaner solar power. We can have a nuclear future or we can have a solar future: we can't have both. And a solar future is cleaner, cheaper and safer.
The choice is obvious. The question of whether EPA will bow to nuclear industry pressure and choose the nuclear path is less so.
Michael Mariotte
June 3, 2015
Permalink: https://www.nirs.org/2015/06/03/new-eia-analysis-shows-nukes/
Your contributions make publication of GreenWorld possible. If you value GreenWorld, please make a tax-deductible donation here and ensure our continued publication. We gratefully appreciate every donation of any size.
Comments are welcome on all GreenWorld posts! Say your piece. Start a discussion. Don't be shy; this blog is for you.
If you'd like to receive GreenWorld via e-mail, send your name and e-mail address to nirs@nirs.org and we'll send you an invitation. Note that the invitation will come from a GreenWorld@wordpress.com address and not a nirs.org address, so watch for it. Or just put your e-mail address into the box in the right-hand column.
If you like GreenWorld, help us reach more people. Just use the icons below to "like" our posts and to share them on the various social networking sites you use. And if you don't like GreenWorld, please let us know that too. Send an e-mail with your comments/complaints/compliments to nirs@nirs.org. Thank you!
GreenWorld is crossposted on tumblr at https://www.tumblr.com/blog/nirsnet