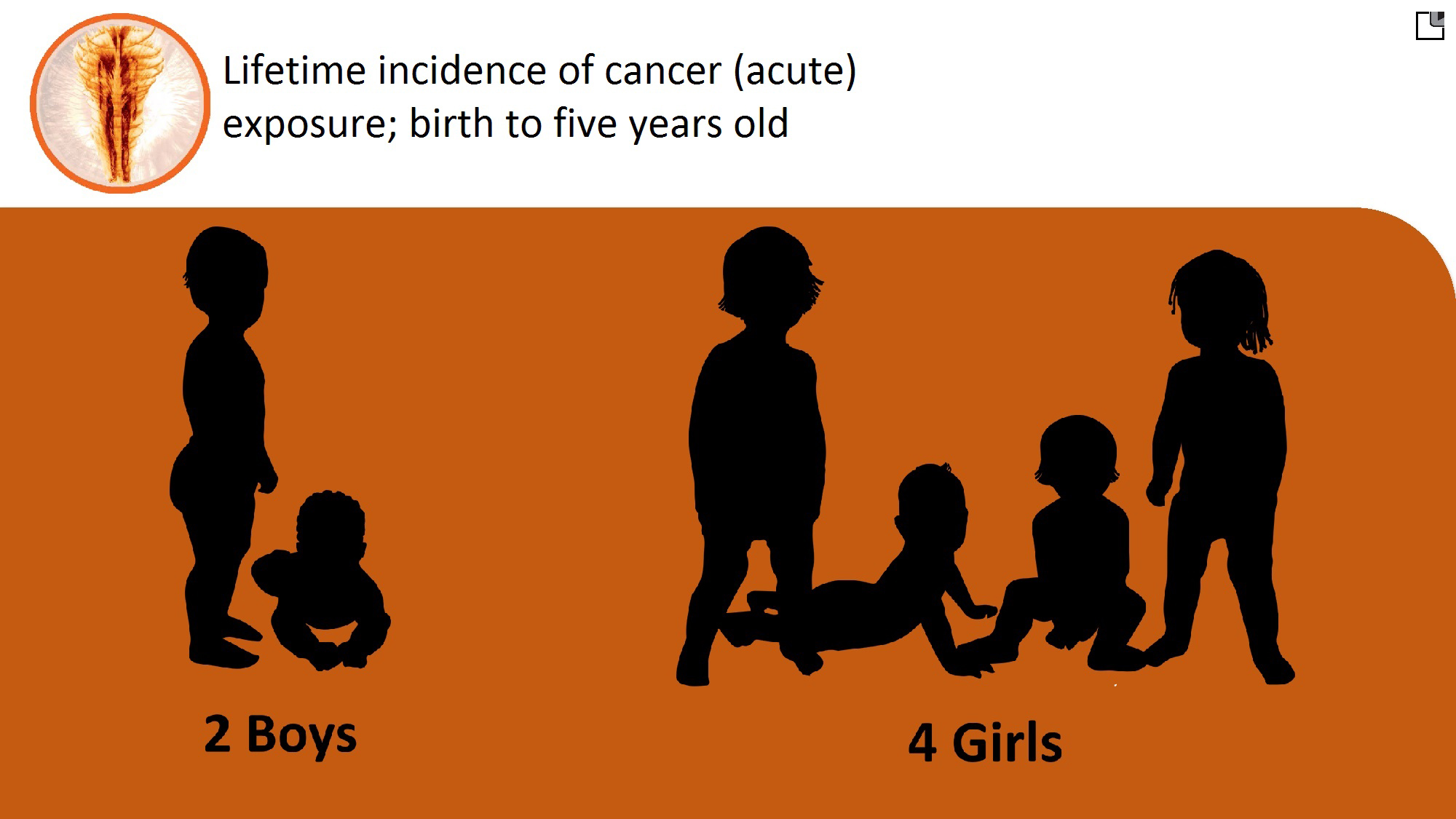 I have been in this job at NIRS for 25 years (03-03-1991—now). I can hear: "Mary, 50 women is not a meaningful sample size!" (I reply: Correct; for a study).
And: "Those women you met at Mama Tea Parties are self-selected activists—so they are a completely biased sample!" (Me: Correct, but this is not a study; these women are not a sample, they are leaders! They are Representatives with a capitol "R"!)
Worst: "Mary, you are simply servicing the 'official' government line! All of the symptoms you described could have any cause; these women are 'just' suffering anxiety and stress, and therefore they link their problems to radiation. There is no basis. These are 'just' women who are afraid of radiation; It is ALL IN THEIR HEADS!"
I hope anyone who shares those thoughts are back with me today. Please consider the points I have brought to Japan on gender and harm from ionizing radiation.
I turn now to statistically significant findings ionizing radiation, cancer and gender.
I first spoke on disproportionate harm to females at the Global Conference on the Humanitarian Impacts of Nuclear Weapons in Vienna (2014), then at the United Nations (May, 2015). I am finally here, speaking in Japan. These findings are rooted here, in the atomic ashes of Hiroshima and Nagasaki.
Since my work is extremely visual, I encourage you to also visit the slides of my presentation.
Click here for a version of slides with accompanying text.  Click here for a version without text but larger slides.
Read my original 2011 paper "Atomic Radiation is More Harmful to Women" LINK:
Or watch the 5 minute video created for Gender Day at the Climate Talks in Paris (2015).
KEY POINTS FROM MY TALKS:
Gender in the Lifespan data (The National Academies of Science published the data in the Biological Effects of Ionizing Radiation "BEIR VII" in 2005; here is NIRS' press release upon its publication.) from the Hiroshima and Nagasaki A-Bomb Survivors has been analyzed by three separate authors, each making these findings:
*Those exposed as infants and young children got the most cancer at some point in their lives;
* For every boy who eventually got cancer, two girls eventually got cancer (see slide 1 of my presentation);
* This is cancer across the lifetime, not only in childhood.
*There is a gender difference across the entire lifetime (see slide 2)
*Among those who were adults: for every two men who died of cancer, three women died (see slide 3).
I draw these further points:
• Why is gender a factor in cancer from radiation? Today, we do not know. Dr. Rosalie Bertell suggested that a greater concentration of reproductive tissue in the female body could be the cause (see slide 4). We do not yet know.
• We must not wait! Now we know there is greater harm to the young, particularly females, we must act to protect and prevent exposures now.
• Decision-makers only see information based on the Reference Man (adult male).
• Radiation regulations and standards are all based on pre-2006 information and therefore Reference Man.
• Even the units of dose [REM = Roentegen Man] are based on Reference Man.
• In order to protect the lifecycle of our species, we must reframe radiation protection around the phase that suffers the most from radiation exposure: female infants and children.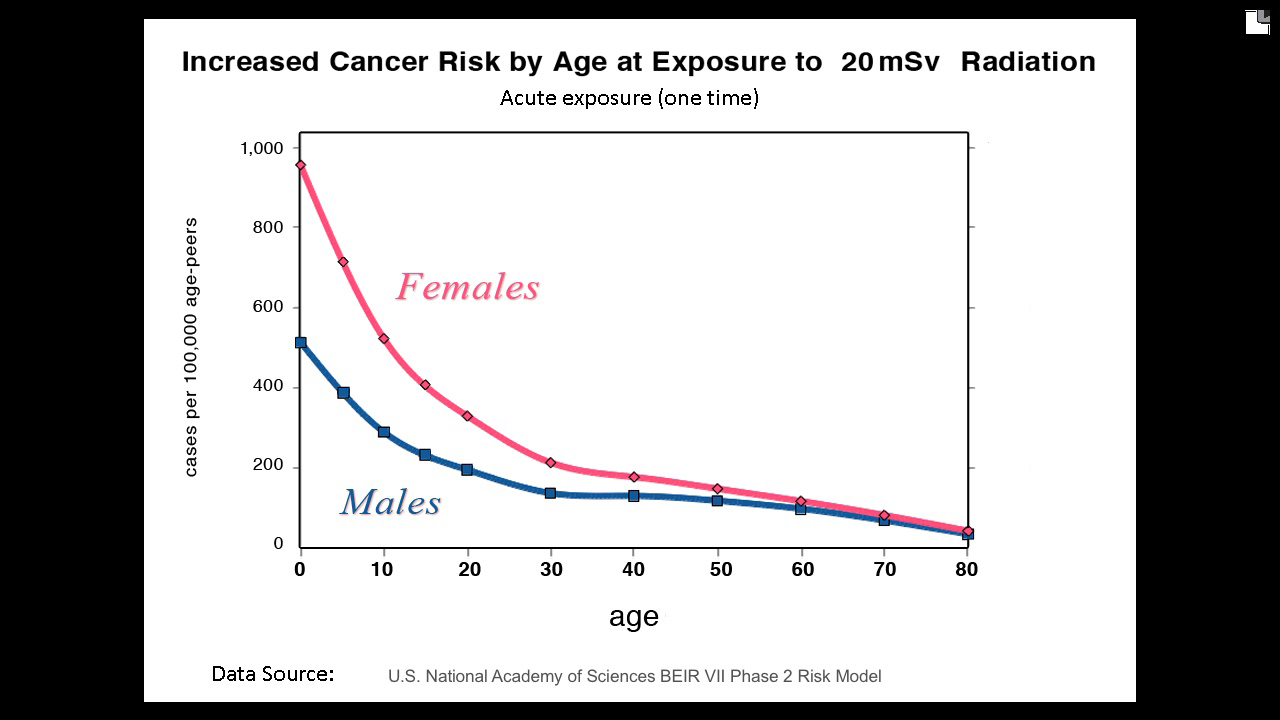 Yes, there are problems with the A-Bomb data. Yes, the fact that the data collection was started five years after the bombs means that the most radiation-impacted people likely were among the deaths subsequent to the bomb, but before 1950. This means that the survivors are a skewed "stronger than normal" group. And yes, John Gofman (and others) have pointed to mismanagement of the data…today there is renewed discussion of flawed assumptions about internal versus external exposure, both of which could taint the "control group" and thereby reducing the finding of A-Bomb harm. Nonetheless, this is the only large data-set that includes all ages and both genders. There is a pattern in the data.
This work describes the lifecycle response of our species to radiation.
"Until I heard your speech I didn't have a clear image that we have been referencing the adult male in radiation standards. When you spoke and pointed out that we should reference little girls instead, I couldn't stop crying; I am the mother of a little girl, and former little girl myself."
–Note handed to me after the talk in Kamakura, March 4, 2016.
Why are the A-Bomb Survivors the only data-set? Because most other large study groups are nuclear workers: adult, primarily male, largely military or paramilitary to start, and then energy workers. You cannot find age and gender factors there.
In the past weeks I have had Hibakusha, A-Bomb Survivors, in nearly every audience I have addressed. Humbling. And this experience confirms the original feeling I had examining BEIR VII back in 2011: these numbers are lives. Lives that were decimated by the choice of my government to drop the first nuclear weapons on cities full of people. Today that decision has been condemned as use of "indiscriminate force" and while not ever enforced, is considered illegal by the world code of morality.
The Lifespan Study itself was also inhumane: the researchers believed that offering medical aid might impact the outcome of their study, so, at least through that program, no medical assistance was given to the A-Bomb victims. Using this data makes me part of this grizzly picture.
In each talk I have taken time to convey, as one women, that I feel deep shame. I offer my personal apology, saying I wish this whole history had never happened.
Note: I do not use the word "risk." The A-Bomb survivor data is harm that occurred. The information I share is fact. Since the gender pattern in the BEIR VII data has been found independently, three times, this is settled science. (Makhijani, 2006 see: www.ieer.org; my 2011 paper linked above and Second Malignant Neoplasms Following Radiotherapy by Sanath Kumar.
No radiation regulator has, to date, assessed the degree of gender factor shown here in their projections.
Speaking to the voices in my head, and, of course, to you too:
It is my contention that female bodies are more harmed by radiation; therefore we have a natural basis, rooted in our bodies, for greater concern about radiation harm. Mothers have a mandate, from the very society that authorized construction of Fukushima Daiichi in the first place, to think of our children and their safety. Here in Japan these are lives. Not numbers.
I am doing by best to be balanced, not alarmist, but I refuse the assertion that these symptoms are all irrational fear.
Mary Olson, Shinagawa, Japan
March 7, 2016
Permalink: https://www.nirs.org/japan-diary-2016-fukushima5-part-4/
Your contributions make publication of GreenWorld possible. If you value GreenWorld, please make a tax-deductible donation here and ensure our continued publication. We gratefully appreciate every donation of any size.
Comments are welcome on all GreenWorld posts! Say your piece. Start a discussion. Don't be shy; this blog is for you.
If you'd like to receive GreenWorld via e-mail, send your name and e-mail address to nirs@nirs.org and we'll send you an invitation. Note that the invitation will come from a GreenWorld@wordpress.com address and not a nirs.org address, so watch for it. Or just put your e-mail address into the box in the right-hand column.
If you like GreenWorld, help us reach more people. Just use the icons below to "like" our posts and to share them on the various social networking sites you use. And if you don't like GreenWorld, please let us know that too. Send an e-mail with your comments/complaints/compliments to nirs@nirs.org. Thank you!
GreenWorld is crossposted on tumblr at https://www.tumblr.com/blog/nirsnet