---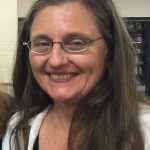 Diane D'Arrigo, Radioactive Waste Project Director. Her main area of expertise is radioactive waste and radiation issues. In addition, she has considerable international experience. She has closely followed so-called "low-level" nuclear waste issues for decades, the national and international moves to deregulate nuclear waste that would allow it to be made into everyday household items and be dumped as regular trash. She has been with NIRS since 1986, has a degree in chemistry and environmental studies and work experience in analytical chemistry and biological research.
---

Denise Jakobsberg, Administrative Coordinator. Provides NIRS with administrative organizing and bookkeeping skills. Her environmental interests have been spurred by a degree in Horticulture and volunteering with a local environmental advocacy group. Her first year with NIRS's dedicated, hard working team has been quite inspirational.
---

Tim Judson, Executive Director (he/him). Tim joined NIRS September 2013 as Associate Director, and has served as Executive Director since 2014. Tim leads NIRS's work on nuclear reactor and climate change issues, and has written a series of reports on nuclear bailouts and sustainable energy. Chair of the Board of Citizens Awareness Network, one of the lead organizations in the successful campaign to close the Vermont Yankee reactor; co-founder of Alliance for a Green Economy in New York.
NIRS is Hiring!
Digital Campaigns Specialist — NIRS is searching for an experienced digital campaigner to lead our online organizing and social media strategies.