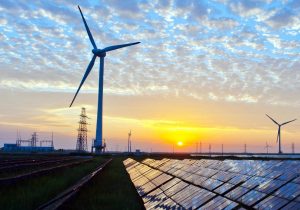 We've known for a long time that nuclear energy is a false solution to climate change. Not only are the health and environmental impacts of nuclear intolerable, but nuclear also gobbles up investments we should be making on clean and safe renewable energy.
Now, a new study by researchers at the University of Sussex in the UK brings us the latest and most robust evidence of these facts:
The study, published today in Nature Energy, considers three hypotheses: Firstly, that emissions decline the more a country adopts nuclear; secondly, that emissions decline the more a country adopts renewables; and thirdly, that nuclear and renewables are 'mutually exclusive' options that tend to crowd each other out at an energy system level. The hypotheses were tested against 25 years' worth of electricity-production and emissions data from 123 countries.
The result? Investment in nuclear is mostly negatively correlated with decreases in carbon emissions, while investment in renewables was positively correlated with such decreases across the board. In other words, countries that invested in nuclear didn't see emission reductions but countries that invested in renewables did. The only exceptions were higher per-capita GDP countries, which saw some decreases in emissions while investing in nuclear—but countries with lower per-capita GDP didn't. But this last finding didn't take into account the costs associated with nuclear waste storage and cleanup, the dangers of nuclear accidents, or the fact that those reductions might have been deeper if renewables had been chosen.
The other major finding of this study is that investments in nuclear and renewables tend to crowd each other out. In other words, countries that invest more in nuclear tend to invest less in renewables, and vice versa. This refutes the 'all of the above' option, or what we call 'refuse to choose'. Every dollar that a country wastes in nuclear is a dollar it doesn't invest in renewable energy, which has a better chance of achieving deeper emission reductions at a lower cost and without the dangers associated with nuclear energy. To refuse to choose is to choose nuclear, to the detriment of the fight against climate change and the health and safety of people and the environment.
The study confirms what NIRS and others in the anti-nuclear movement have been saying for a long time: Nuclear is simply too expensive, too time-consuming, and too dangerous a technology to compete with renewables as an alternative to decarbonize the global economy. Think of the billions of dollars in bailouts that aging nuclear power plants require just to stay afloat. The interminable timelines and cost overruns for new plants. The regulatory edifice we need just to reduce the chances of a meltdown (assuming regulators do their job). None of these apply to renewables.
The results of this study are a blow to the nuclear industry, which loves to present nuclear as a key technology to solving the climate challenge. The study is a clear indication that, if we're serious about cutting carbon emissions, renewables are by far our best bet. It's also a blow to the 'refuse to choose' crowd, which ducks the choices that must be made to face climate change and protect the health and safety of people and the planet. It's time to get off the fence and choose the path that is clean, safe, and will help us avert catastrophic climate change: renewable energy.