Janie Scott, Nuclear Harm Reduction and Climate Justice Manager, Georgia-WAND
Tim Judson, Executive Director, NIRS
This week we commemorate Juneteenth, the holiday celebrating the struggle for Black liberation in the US. Yesterday, Congress and President Biden officially designated Juneteenth a federal holiday. It is so named for the date—June 19th, 1865—when word of their liberation finally reached enslaved people in Texas. They were the last to be so delivered, their oppressors having kept them in bondage more than two months after the confederacy's army surrendered.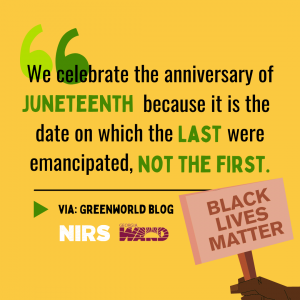 Juneteenth is a statement in itself about collective liberation. We celebrate the anniversary of Emancipation on June 19th because it is the date on which the last were emancipated, not the first. In our national culture, we have a tendency to celebrate events marking the promise of freedom and equality, rather than on their fulfillment; we mark the birth of democratic ideals, rather than their deliverance. We celebrate our independence from Great Britain on July 4th, when the rebel colonists declared it, not when they won it.
Juneteenth stands for the principle that we have not truly achieved liberation if some are left in chains.
Justice Efforts in Biden's Infrastructure Package 
It is an especially important message this year, in a moment of great opportunity for meaningful change: for racial justice, economic justice, environmental justice, climate justice.
From President Biden's American Jobs Plan, to the THRIVE Act, to the Red, Black, and Green New Deal, racial justice and equity are central to a national agenda of jobs, climate, and justice. President Biden's American Jobs Plan includes a "clean energy standard" requiring 100% emissions-free electricity by 2035, as well as a requirement that 40% of federal dollars be invested in communities suffering racial, economic, and environmental injustice. The THRIVE Act includes similar commitments, with greater ambition, funding, and resources.
The details are all being negotiated right now, with a goal to have a trillion-dollar infrastructure bill passed in August—just weeks from now. Compromises have already started. Among the most glaring are White House and Congressional proposals to include nuclear power, fossil fuels, biomass, and other dirty energy sources in the national "clean energy" standard.
As the White House's own Environmental Justice Advisory Council reported in May, nuclear power, fossil fuels, biomass, and other dirty energy sources do not benefit Indigenous peoples and environmental justice communities. Black communities are systematically and disproportionately harmed by nuclear facilities and radioactive waste. 
Nuclear Injustice in Shell Bluff, Georgia 
Consider Shell Bluff, a small unincorporated portion of Burke County, Georgia where the first new nuclear build in 40 years is happening. Burke County–specifically, Shell Bluff–is both downwind and downstream from Savannah River Site in South Carolina and the location of nuclear power Plant Vogtle. Savannah River Site is gearing up for a new mission by converting the failed MOX plant into a facility to manufacture pits for nuclear weapons. 
For decades Shell Bluff was a predominantly black community. There are many residents who have lived in the area for generations and readily speak of land that was taken by eminent domain for Units 1 and 2 of Plant Vogtle. Some still live in family homes and on family land. Community members fish, hunt, and grow food on these lands.  A comprehensive study has never been done of the effects of living near a nuclear facility and what being exposed to additional radiation even in small amounts over time means to the health of residents–specifically somewhere like Shell Bluff with a proximity to not one but two nuclear facilities. If you speak with residents many tell stories of families with abnormal numbers of cancers who were raised out in Shell Bluff.  
Georgia WAND's analysis of available data shows numerous cancers have risen in occurrence since Units 1 and 2 came online. Some residents live in homes that are not suitable to shelter in place should they need to. The ten-mile evacuation zone near Plant Vogtle is littered with dirt roads that wash out during the rainy season. 
As previously stated,  to achieve liberation we all must be free. Reflecting on Juneteenth and what it means requires breaking the chains of an extractive industry like nuclear. Nuclear energy has long been falsely touted as the end to climate change and as clean energy. It is neither a solution for climate change or clean energy. Residents like those that continue to live in Shell Bluff and Burke County, reside in what, by default, is a repository for nuclear waste. 
Every community has a right to clean air, clean water, and clean jobs. No community wants to bear the burden of the toxic waste produced by nuclear energy. We cannot continue to shift the health and environmental burdens of nuclear–from the beginning of the chain through the processing and storing of nuclear waste s–onto vulnerable and disenfranchised communities near these facilities. These by definition are environmental justice communities.  
In respect of Juneteenth, our newest federal holiday, Congress and President Biden must honor the meaning of the holiday. It is time for a truly just and equitable climate policy that ends our reliance on nuclear and heals Shell Bluff and all other communities that bear the burdens of dirty energy. 
Tell Congress and President Biden to create the just 100% renewable energy future we need and deserve.