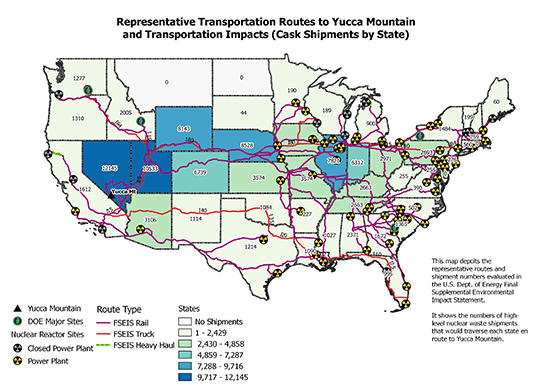 A new campaign to expose the perils of the massive and unnecessary radioactive waste transportation that would occur across the U.S. if the moribund and scientifically-indefensible Yucca Mountain, Nevada waste dump were to be revived and/or a centralized "interim" storage site--basically a nuclear waste cask parking lot--were to be licensed.
Organizing and educational resources; expert and technical documents, and much more here.
---
Women and Radiation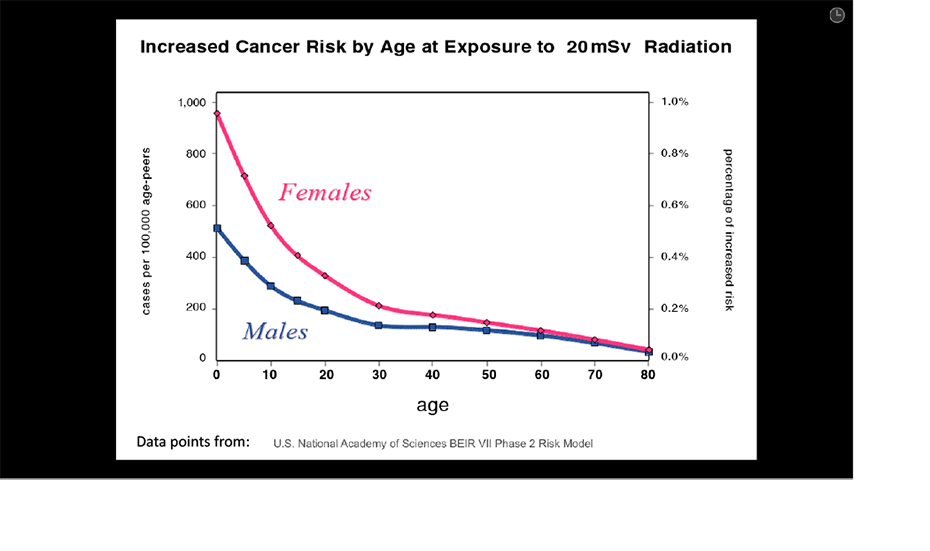 Research by NIRS' Mary Olson demonstrates that women and girls are more susceptible to the effects of radiation than men and boys. On May 5, 2015, Olson gave a presentation about these issues at a United Nations meeting in New York on Gender and Nuclear Weapons.
NEW ACTION!
August 19, 2015: Tell NRC to reject efforts by pro-nuclear fanatics to weaken radiation protection standards.
---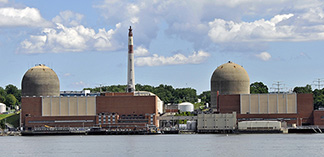 A campaign to close the aging, dangerous Indian Point reactors near New York City and build a clean, sustainable and affordable nuclear-free, carbon-free energy system for all New York.
---
Breaking News
December 20, 2015.
Press release from Russia's Green World on accident and radiation release at Leningrad Nuclear Power Plant, December 18, 2015.
---
October 22, 2015
NIRS/AGREE analysis finds FitzPatrick reactor can be replaced with clean & renewable energy at a lower cost
---
October 13, 2015
NIRS statement on Pilgrim reactor closure announcement--Four more years is too long.
Statement of Sen. Ed Markey (D-Mass.) on Pilgrim shutdown.
October 15, 2015: Letter to NRC from Massachusetts Congressional delegation insisting that NRC ensure Entergy has adequate financial resources for operation/decommissioning of Pilgrim; that agency does not reduce Emergency Planning Zone; that NRC require Entergy to provide assistance to Pilgrim workers, and more.

GreenWorld, NIRS' blog, is at www.safeenergy.org
February 9, 2016
New York's Nuclear Fork in the Road: Subsidizing Old Reactors Is a Dead End
Last week, we let you know about New York's new proposal to subsidize most of the state's existing nuclear reactors. And we promised you a more in-depth piece after we had a chance to digest the idea. So here you have it: It's a really bad idea.
There's a lot more to say, of course, but it's good to start there and not lose sight of the big picture. As a reminder, here are the basics of what the state's utility regulators are proposing: New York will establish a renewable energy standard to reach 50% renewable energy by 2030--this could be even better and the state still seems to be underestimating its renewable energy and efficiency potential, but YAY! At the same time, it's packaged with a massive subsidy to nuclear power plants, to try to prevent four of the state's six nuclear reactors from closing during that time.
If the proposal ends up being implemented as the state's Public Service Department is proposing, it could end up costing New Yorkers from $2 billion to $6 billion by 2030. And that is just the extra cost of subsidies, above and beyond the market price of electricity. Between buying the reactors' electricity and paying subsidies, New Yorkers would spend a total of at least $18 billion on the four reactors, rather than on renewables and efficiency. And that is assuming the reactors' operating costs don't rise, and that the state wouldn't need to guarantee them a profit margin to continue operating.
Continue reading at www.safeenergy.org
---
February 2, 2016
The verdict is in: solar and wind have won the technology race
We continue to hear the same old arguments over and over again--in comments in these pages, in blogs and newspaper op-eds, in press releases and out of the mouths of those utility execs trying to hold on to the 20th century model of electricity generation and distribution, and, most depressingly, in the U.S. Senate which passed by a resounding 87-4 vote legislation to encourage new nuclear power development.
The arguments go like this: Germany's Energiewende energy transition is failing; renewables are fine, but they can't provide baseload power and thus can't reliably power a modern industrial society; renewables are still too expensive without subsidies; we need an all-of-the-above energy strategy to combat climate change; new generation reactors will be safer, cheaper and also effectively deal with radioactive waste, and so on.
Well, that last one is a whopper and has been promised since nuclear power first emerged--call us when one of these Generation IV reactors actually exists and is providing cheap, safe, waste-free, reliable electricity--but the reality is none of these arguments, though some on their surface may seem reasonable, hold water any longer.
Continue reading at www.safeenergy.org
---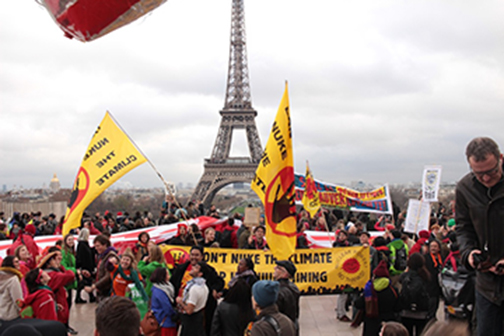 COP 21 Don't Nuke the Climate! organizing and resources page.
February 2, 2016. Paris and Onward: the Path Forward to a Nuclear-Free, Carbon-Free energy future. NIRS telebriefing with Dr. Mark Jacobson, Stanford University; The Solutions Project (http://thesolutionsproject.org/) and Dr. Arjun Makhijani Institute for Energy and Environmental Research (IEER.org). Moderated By: Tim Judson, Executive Director, Nuclear Information and Resource Service. MP3 recording.
December 11, 2015. Don't Nuke the Climate campaign delivers petition from 524 organizations to COP 21 negotiators, calling for speedy and strong non-nuclear climate change action.
August 4, 2015. Huge Victory! Final EPA Clean Power Plan removes most pro-nuclear provisions, withdraws support for existing reactors, recognizes nuclear power will play little role in addressing climate. Talking points. Letter to NIRS supporters.
---
Pope Francis' Encyclical on climate includes several passages highly skeptical of nuclear power as a technology, and thus as a climate solution. Excerpts here.
Don't Nuke the Climate telebriefing: lessons from Japan and Germany. Featuring Amory Lovins and Tim Judson with Michael Mariotte moderating. June 30, 2015. mp3 file.
Fact sheet: Nuclear Power and Climate: Why Nukes Can't Save the Planet.
Briefing Paper: Nuclear Energy is Dirty Energy (and does not fit in a clean energy standard). pdf
Briefing Paper: Killing the Competition. How nuclear industry is attempting to block climate action, stop renewable energy and subsidize old reactors. pdf
Report: Power Shift: The Deployment of a 21st Century Electricity Sector and the Nuclear War to Stop It. Describes how the nuclear power industry is seeking consumer bailouts for its uneconomic reactors while working to undermine adoption of clean renewable energy.