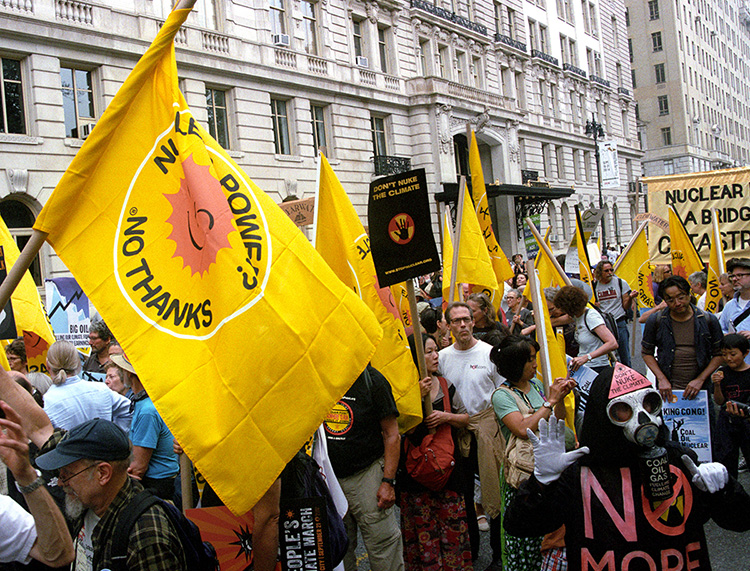 THANK YOU to the many thousands of people who marched with the Nuclear-Free, Carbon-Free Contingent to the People's Climate March September 21 in NYC. We made history. Largest climate march ever. Largest nuclear-free, carbon-free action ever.
Take Action: Tell the EPA to take nuclear support out of its carbon rules.
Statement of Nuclear-Free, Carbon-Free Contingent to People's Climate March
Endorsers of Nuclear-Free, Carbon-Free Contingent
Fact sheet: Nuclear Power and Climate: Why Nukes Can't Save the Planet.
Flyer: Talking Points on nuclear power in EPA's proposed carbon reduction rule. pdf version. jpg version.
Briefing Paper: Nuclear Energy is Dirty Energy (and does not fit in a clean energy standard). pdf
---
Breaking News
September 29, 2014
Clean energy organizations file new challenges to NRC's "waste confidence" policy.
17 clean energy organizations, including NIRS, today filed simultaneous contentions and a new petition in every open nuclear reactor licensing proceeding challenging the NRC's ability to issue new reactor licenses and license renewals. The contentions argue that the NRC has not fully addressed the issues that led a federal court to strike down the agency's "waste confidence" policy in 2012 and thus the NRC cannot issue any licenses.
Background on "waste confidence" issue
---
September 11, 2014
Killing the Competition. The Nuclear Power Agenda to block climate action, stop renewable energy, and subsidize old reactors.
Major new report by NIRS' Executive Director Tim Judson details how major utilities and nuclear power companies have begun a campaign to rig energy markets, climate regulations, and clean energy programs to prevent the advance of renewable energy. Using a deceptive public relations campaign and heavily-funded front groups like Nuclear Matters, Third Way, and C2ES, corporations including Exelon and Entergy have tried to drum up fears of a national energy crisis stemming from the closure of several aging, uncompetitive nuclear plants and the advance of renewable energy. While touting the need to "preserve" nuclear power, nuclear interests have covered up the actual reforms they are seeking and their implications for the U.S.'s energy future.
Audio recording (mp3 file) of press conference release of the report featuring Tim Judson, Dr. Mark Cooper, Vermont Law School, Institute for Energy and the Environment; Tyson Slocum, energy program director, Public Citizen; Deb Katz, executive director, Citizens Awareness Network (New England); David Kraft, executive director, Nuclear Energy Information Service (Illinois); Jessica Azulay, program director, Alliance for a Green Economy (New York).

GreenWorld, NIRS' blog, is at www.safeenergy.org
September 30, 2014
Nuclear heartburn: even IEA says solar could become world's dominant energy source
Sending chills down the spine of nuclear and coal utility executives across the world, the International Energy Agency (IEA) yesterday released two reports that assert solar power could become the dominant source of global electricity production by mid-century.
This is the same IEA that has consistently and dramatically underestimated the potential contribution of renewables over more than a decade. As we pointed out on July 17, 2014, since at least 2000, Greenpeace has been far more accurate when projecting renewable energy use than the IEA. As RenewEconomy, based in Australia, put it, "The forecasts from the IEA are not the most dramatic that can be found, but they are significant because the IEA is essentially a conservative organisation that was created in the 1970s to defend developed countries' access to fossil fuels."
Yet, in what will almost certainly prove to be another underestimation, even the IEA says that given the right policies (which is certainly not a given) solar power could account for 27% of all global electricity generation by 2050--the most of any power source. IEA says that 16% of this would come from photovoltaics (PV)--mostly rooftop solar--and 11% from utility-scale concentrating solar power (CSP).
Continue reading at www.safeenergy.org
Nuclear Newsreel back articles (2012-2013)
---
NUCLEAR 911!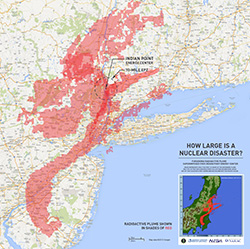 click on graphic to expand map
Could the area around Indian Point be evacuated in a nuclear emergency? Could the area around any nuclear reactor?
Join the Nuclear 911 Campaign.
April 9, 2014 "The NRC has failed the American people." NRC denies petition from NIRS, 37 co-petitioners for modest improvements in emergency planning regulations. Press release. Link to NRC decision.
April 30, 2014. NRC fails to document claim made in denial of NIRS' emergency planning petition that "majority" of nuclear emergency drills include natural disaster components. Press release.