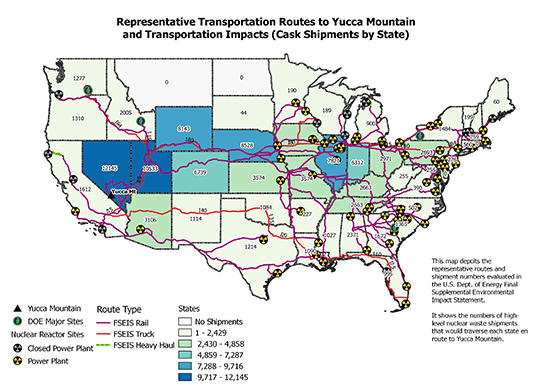 A new campaign to expose the perils of the massive and unnecessary radioactive waste transportation that would occur across the U.S. if the moribund and scientifically-indefensible Yucca Mountain, Nevada waste dump were to be revived and/or a centralized "interim" storage site--basically a nuclear waste cask parking lot--were to be licensed.
Organizing and educational resources; expert and technical documents, and much more here.
---
Women and Radiation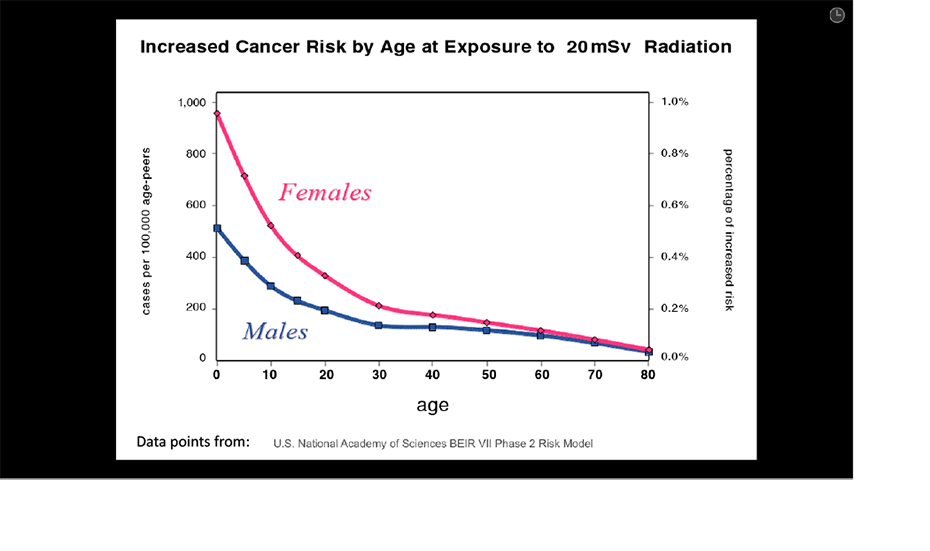 Research by NIRS' Mary Olson demonstrates that women and girls are more susceptible to the effects of radiation than men and boys. On May 5, 2015, Olson gave a presentation about these issues at a United Nations meeting in New York on Gender and Nuclear Weapons.
NIRS/Fairewinds embark on Japan tour February 11-March 15. NIRS' Mary Olson will focus on radiation and health issues while nuclear engineer Arnie Gundersen will address Fukushima aftermath and safety issues with Japanese reactors at stops across the country. Media advisory.
---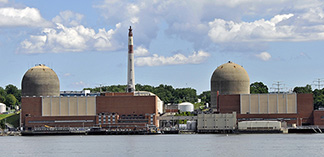 A campaign to close the aging, dangerous Indian Point reactors near New York City and build a clean, sustainable and affordable nuclear-free, carbon-free energy system for all New York.
---
Breaking News
April 28, 2016
Clean energy groups, including NIRS, urge rejection of WCS' proposed "interim" high-level radwaste dump in Texas.
---
April 25, 2016
Goals of U.S. Department of Energy Meeting in Sacramento April 26 would Trigger Largest Nuclear Shipping Campaign in History: California Cities Would be Fukushima Freeways
---
April 23, 2016
NIRS and AGREE submit extensive comments to New York PSC that show how NY can meet its 2030 carbon emissions goals without nuclear (and thus without nuclear subsidies).
---
December 20, 2015.
Press release from Russia's Green World on accident and radiation release at Leningrad Nuclear Power Plant, December 18, 2015.
---
October 22, 2015
NIRS/AGREE analysis finds FitzPatrick reactor can be replaced with clean & renewable energy at a lower cost

GreenWorld, NIRS' blog, is at www.safeenergy.org
May 2, 2016
Exelon seems to think the rules are for others
It might seem that we're guilty of dumping on Exelon in these pages, which is possibly true, especially since there is an apparently endless supply of Exelon-initiated issues worthy of bringing to public attention. After all, Exelon is the nation's largest electric utility, the largest nuclear utility, and while we haven't developed a test for this yet, quite likely the nation's greediest electric utility.
Still, consider this one from Crain's Chicago Business Review,  which has been doing a great job of trying to hold Exelon accountable: it turns out that while Exelon has been pleading poverty in Springfield, Illinois–home of the Illinois legislature–and loudly proclaiming it needs a bailout to keep at least three uneconomic reactors operating; when the company goes to Wall Street, Exelon paints quite a different picture of its current–and apparently lucrative–financial standing.
This is what naked greed looks like, folks. The question is, now that Exelon has been caught on it, will anyone's cheeks in the executive suite turn even a modest shade of pink? Unlikely, unless this backfires so much that the legislature actually stops a bailout.
Continue reading at www.safeenergy.org
---
April 25, 2016
How to take on the nuclear shills: here's one approach
Earlier this month, we reported that climate scientist Dr. James Hansen and the pro-nuclear Breakthrough Institute's Michael Shellenberger had leaped–apparently on their own–into the battle over the future of some of Exelon's unprofitable nuclear reactors in Illinois.
In a nutshell, Exelon wants a taxpayer and/or ratepayer (it doesn't really care where the money comes from) bailout to ensure that Exelon will receive a profit, whether the reactors themselves are profitable or not. They aren't, and a Clinton reactor official (the most endangered of Exelon's fleet) said this week that even with a bailout Clinton wouldn't be profitable for "five to seven years."
Since Clinton's competition, primarily wind and natural gas at present, already is profitable, the only argument Exelon has been able to make is that closing Clinton (and two units at Quad Cities) would cause carbon emissions in the state to rise. That's where Hansen and Shellenberger, and Shellenberger's new group Environmental Progress Illinois (EPI), jumped in. Not that it's easy to make the case that the fate of the planet depends on whether three aging, uneconomic, and dirty in many other ways reactors operate long enough to keep Exelon's wallets full for another few years….
Continue reading at www.safeenergy.org
---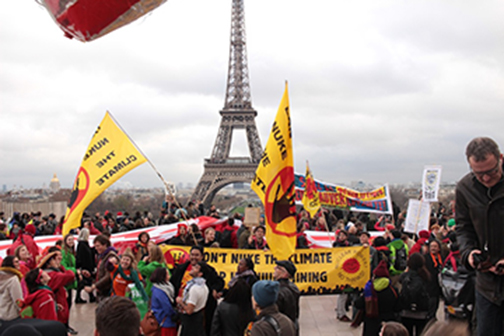 COP 21 Don't Nuke the Climate! organizing and resources page.
February 2, 2016. Paris and Onward: the Path Forward to a Nuclear-Free, Carbon-Free energy future. NIRS telebriefing with Dr. Mark Jacobson, Stanford University; The Solutions Project (http://thesolutionsproject.org/) and Dr. Arjun Makhijani Institute for Energy and Environmental Research (IEER.org). Moderated By: Tim Judson, Executive Director, Nuclear Information and Resource Service. MP3 recording.
December 11, 2015. Don't Nuke the Climate campaign delivers petition from 524 organizations to COP 21 negotiators, calling for speedy and strong non-nuclear climate change action.
August 4, 2015. Huge Victory! Final EPA Clean Power Plan removes most pro-nuclear provisions, withdraws support for existing reactors, recognizes nuclear power will play little role in addressing climate. Talking points. Letter to NIRS supporters.
---
Pope Francis' Encyclical on climate includes several passages highly skeptical of nuclear power as a technology, and thus as a climate solution. Excerpts here.
Don't Nuke the Climate telebriefing: lessons from Japan and Germany. Featuring Amory Lovins and Tim Judson with Michael Mariotte moderating. June 30, 2015. mp3 file.
Fact sheet: Nuclear Power and Climate: Why Nukes Can't Save the Planet.
Briefing Paper: Nuclear Energy is Dirty Energy (and does not fit in a clean energy standard). pdf
Briefing Paper: Killing the Competition. How nuclear industry is attempting to block climate action, stop renewable energy and subsidize old reactors. pdf
Report: Power Shift: The Deployment of a 21st Century Electricity Sector and the Nuclear War to Stop It. Describes how the nuclear power industry is seeking consumer bailouts for its uneconomic reactors while working to undermine adoption of clean renewable energy.