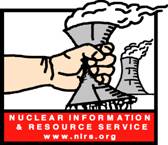 NUCLEAR INFORMATION
AND RESOURCE SERVICE
6930 Carroll Avenue, Suite 340, Takoma Park, MD 20912
301-270-NIRS (301-270-6477); Fax: 301-270-4291
nirsnet@nirs.org; www.nirs.org
STATEMENT OF DOMINIQUE FRENCH, NIRS CAMPAIGNER
NRC EMERGENCY PLANNING MEETING, SEPTEMBER 13, 2012
Thank you to the NRC and FEMA for hosting these meetings in Kansas City and Washington D.C. to discuss what improvements must be made to emergency planning regulations. Now, I watched the Kansas City telecast and am aware that this is scoping to find out how to best amend the regulations, and that a great deal of the presentations dealt with making the regulatory process itself as streamlined and efficient as possible, and that meetings and other guidance documents have been or will be suggested on how to amend EPZ's, but we feel that this is an important issue that should be addressed now.
In correlation to Michael's presentation, I will be going in further detail regarding our Petition for Rulemaking to the NRC. A brief overview of our Petition- in February 2012 we filed the Petition for Rulemaking to expand the emergency planning zone regulations. Specifically we called for the creation of a three tiered emergency planning zone regulations and the introduction of adding full scale drills and exercises on a biennial basis. Additionally, those exercises and drills should alternately deal with an initiating or concurrent regionally appropriate event, such as a hurricane in Florida or earthquake in California.
The three tiered approach would require:
25 mile plume EPZ- in this zone detailed plans will be developed and full scale drills will be conducted. Sirens to alert local populations about the emergency will be installed, and transportation for elderly, prison, and school populations will be arranged- this is an expansion of the current 10 mile epz
50 mile emergency response zone- this will require the identification of evacuation routes and moving emergency centers beyond the 25 mile zones.
100 mile ingestion pathway EPZ- in the event of a radionuclide release, surface and ground water, as well as crops and vegetation may be effected, measures should be adopted to protect them within 100 miles of an emergency
These upgrades are crucial because the regulations have been largely static for the last thirty years, with little change. Given the aftermath of Chernobyl, September 11th, and Fukushima, this is unacceptable.
CHERNOBYL:
Evacuation efforts in Chernobyl were widespread and long lasting- there is an 18-mile radius surrounding the reactor has been labeled a "dead zone," which is expected to remain uninhabitable for several hundred years. While evacuations initially were limited to several zones within an 18-mile radius of the reactor, in fact, the 30 kilometer exclusion zone was amended and expanded to cover 4300 square kilometers, stretching as far as 300 miles north. Between the years 1986 and 2000 approximately 350,400 people were evacuated from severely contaminated areas of Belarus, Russia and Ukraine. Additionally, areas up to 500 kilometers away in neighboring Belarus remain uninhabitable.it is clear that had adequate emergency plans and radiation monitoring been in place in the Soviet Union during 1986, many—probably most—of the towns and areas would have been evacuated to protect against exposure from the radioactive "hotspots" these hot spots, which were created right after the accident but people were not evacuated for months or years later demonstrating a huge failure of emergency planning.
Food contamination continues to plague the Chernobyl region. Radionuclides including iodine 131, cesium 134 and cesium 137 tainted crops and animal products in Belarus, which is some 70 miles from Chernobyl. After the Fukushima disaster, samples of milk, berries, and potatoes in areas grown outside the Chernobyl exclusion zone were taken. Those samples continued to exhibit contamination.
FUKUSHIMA
Evacuation efforts began first in a three-kilometer zone on March 11, 2001, which was quickly expanded to a 10 kilometer radius around Fukushima Daiichi and then to 20 kilometers (12 miles). By March 12, 2011, 140,000 people had been evacuated from the area. On March 15, 2011 U.S. NRC Chairman Greg Jazcko urged Americans within 50 miles of the Fukushima Daiichi plant to evacuate. This recommendation was followed by a similar statement from the U.S. State Department. Around March 25, 2011, the Japanese government established a new zone, covering the area 20 to 30 kilometers from the Daiichi site and encouraged (but did not require) evacuation from that zone. About three weeks later, the government issued mandatory evacuation orders for some communities about 25 miles (40 km) northwest of the Fukushima Daiichi site, where heavy radiation levels were measured that exceeded evacuation criteria. Japan's government was strongly criticized, both in Japan itself and internationally, for delaying the evacuation of these communities. The Japanese Diet came out with a report in July 2012 that outlined the deficiencies in the Japanese regulatory structure that led to the large scale disaster
Some of the criticisms include:
The central government was not only slow in informing municipal governments about the nuclear power plant accident, but also failed to convey the severity of the accident.
Similarly, the speed of information in the evacuation areas varied significantly depending on the distance from the plant.
There was great confusion over the evacuation, caused by prolonged shelter-in-place orders and voluntary evacuation orders.
Some people were evacuated to areas with high levels of radiation because information about radiation monitoring was unavailable.
These people should have been evacuated much earlier—a tested evacuation plan and appropriate radiation monitoring likely would have substantially reduced this population's exposure to radiation. For these kinds of reasons, in October 2011, Japan announced plans to expand its own emergency planning zones to include a 30 kilometer (18-mile) evacuation zone and a 50 kilometer (30-mile) Plume Protection Planning Zone.
There have been widespread reports of discoveries and interdiction of tainted food, crops, livestock and soil. A major area of concern is rice contamination. Shortly after the disaster, Iodine-131 was found in milk and spinach in towns within Fukushima Prefecture some 18 kilometers away from Fukushima Daiichi. Some farms 100 kilometers and further away have been contaminated by radiation from Fukushima. Radioactive beef from outside the exclusion zone was found to have been sold in Japanese markets and possibly even sold abroad. Japanese authorities stopped shipments of rice from farms some 60 kilometers north of Fukushima in November 2011 due to high levels of radioactive Cesium. In December 2011, radioactive particles were found in infant formula produced in a plant north of Tokyo.

Natural Disasters and Emergency Response Planning
Going back to what was discussed earlier about needing to alternate exercises and drills with initiating or concurrent regionally appropriate events, this is crucial because of the increases in natural disasters which have become increasingly prevalent;
In 2011 which was termed the most damaging weather year ever for the United States.:
March 2011, the 9.0 earthquake and 40 + foot tsunami that ravaged the Fukushima Daiichi plant.
August 2011, an earthquake struck central Virginia resulting in ground motion acceleration about twice the design basis of a U.S. nuclear power plant.
Also in August- Hurricane resulted in unprecedented flooding in the northern state of Vermont.
This clearly demonstrates that weather and natural phenomena can effect nuclear power plants.
At Fukushima, the earthquake and tsunami initiated a nuclear accident. Hurricanes Katrina or Irene (or many others) would have greatly compromised evacuation had a nuclear emergency occurred concurrently. So could a tornado (during 2011, tornados caused loss of offsite power—the root cause of the Fukushima accident-- at the Browns Ferry and Surry nuclear reactors sites), wildfire (for example, a major wildfire threatened nuclear storage sites at Los Alamos National Laboratories during 2011), floods (a major flood on the Missouri River during 2011 threatened the Fort Calhoun and Cooper reactors in Nebraska and put evacuation routes under water) and other natural disasters.
Current NRC emergency planning regulations do not reflect that natural disasters can both cause nuclear accidents and/or may occur concurrently with nuclear accidents. In either event, natural disasters can greatly complicate the ability to evacuate a given area, or even to provide sufficient communication to assure sheltering or other protective actions within a given area.