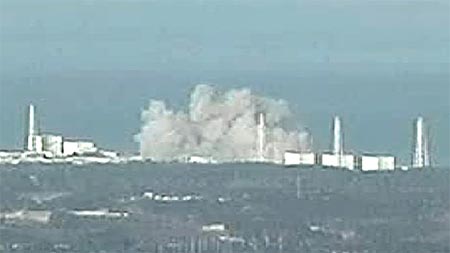 March 6, 2012. New UCS report on nuclear power safety in US one year after Fukushima. Says industry's voluntary FLEX program is inadequate for nuclear power safety.
March 6, 2012. PSR report: U.S. first responders, medical infrastructure unprepared for Fukushima-level reactor crisis.
March 5, 2012. New mapping tool from NRDC shows potential consequences from nuclear accident at every U.S. reactor site based on actual weather patterns from March 11, 2011.
March 2, 2012. Are you at risk? New Greenpeace International interactive map showing nuclear reactors/population around the world.
February 28, 2012. Living on Borrowed Time. 2nd annual Union of Concerned Scientists report on nuclear safety in the U.S.
February 28, 2012. Lessons from Fukushima. New report from Greenpeace International prepared for the first anniversary of Fukushima disaster.
December 12, 2011. Rep. Ed Markey (D-Mass.) releases important new report that charges the four NRC Commissioners currently attacking Chair Greg Jaczko with conspiracy to undermine needed post-Fukushima safety regulations.
November 1, 2011: Presentation from radiation researcher Marco Kaltofen to American Public Health Association on new radiation findings from Fukushima and U.S. Video explanation from Fairewinds Associates available here.
October 7, 2011: Statement of NIRS' Michael Mariotte to NRC on petition to close GE Mark I reactors. Formatted pdf version here. Video of Michael Mariotte statement to NRC.
June 14, 2011. Flood at Fort Calhoun. Nebraska's Fort Calhoun reactor is surrounded by floodwaters from the Missouri River. Updated page, including photo and video & other links on the situation and background information on the reactor and fuel pool.
April 2011: Important new study from Germany's IPPNW on the ongoing health consequences of the Chernobyl nuclear catastrophe.

March 2011: This is the charter for the Nuclear Regulatory Commission's Task Force conducting a 90-day review of U.S. reactors and regulatory requirements

in light of the Fukushima nuclear accident.
March 26, 2009: Former utility executive Arnie Gundersen's presentation in Harrisburg, PA on explaining how the Nuclear Regulatory Commission greatly underestimated the radiation releases from the 1979 Three Mile Island nuclear accident.
March 26, 2009: Powerpoint by former utility executive Arnie Gunderson concludes that far more radiation was released by the 1979 Three Mile Island accident than acknowledged by the Nuclear Regulatory Commission.

March 24, 2009: Peter Bradford was an NRC Commissioner at the time of the Three Mile Island accident in 1979. He was asked to testify before a Senate subcommittee about the accident and lessons learned. Here is a copy of his prepared testimony; we think you'll find it useful.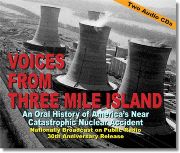 March 2009: Voices from Three Mile Island - A radio show produced in 1980, originally broadcast on 65 public radio stations across the United States on the first anniversary of the accident at Three Mile Island. For free MP3 audio download or for listening on the web go to www.turningtide.com
YouTube of Walter Cronkite's CBS Evening News broadcast on Day 3 of the Three Mile Island nuclear accident, when the full danger of the events became more clear:
Three Mile Island - Walter Cronkite, CBS, 3-30-79 Part One
Three Mile Island - Walter Cronkite, CBS, 3-30-79 Part Two
July 19, 2007: NIRS report on earthquake damage to world's largest nuclear facility in Japan

May 10, 2007: New international report commissioned by Greens in the European Parliament examines nuclear reactor accidents and safety issues since Chernobyl.

Says study coordinator Mycle Schneider, "In the course of the last twenty years, the world has lived with the illusion that it is possible to make nuclear reactors safe. In reality, every day, countless incidents occur in nuclear reactors, and, since Chernobyl, catastrophe has, on several occasions, only narrowly been avoided."
Resolution of the Chornobyl+20: Remembrance for the Future Conference, Kyiv, Ukraine, April 23-25, 2006

"The Other Report on Chernobyl" (TORCH), commissioned by Rebecca Harms, Member of European Parliament for Chernobyl+20 conference.

April, 2006
IPPNW literature review on Chernobyl consequences,

April 2006
Greenpeace report on Chernobyl consequences: 93,000 or more fatalities likely.

April 2006
Chernobyl: A Nuclear Catastrophe 20 Years On: A Review of the Present Situation in Ukraine. A report for Greenpeace by Large & Associates,

April 2006
Heinrich Boell Foundation Issue Paper No. 2. Nuclear Reactor Hazards: What are the old and new types of reactor? By Anthony Frogatt

2006
September 6, 2005: Statement of Michael Mariotte, executive director of Nuclear Information and Resource Service (NIRS), on UN Chernobyl Report
Chernobyl Can Happen Here. NIRS factsheet prepared for 19th anniversary of Chernobyl nuclear accident.

April 26, 2005
UCS says there is a 1 in 3 chance of a serious accident by 2006 at one of 68 U.S. reactors. Get the UCS issue brief here,

and act! August 25, 2003
Avoidable Tragedy post-Chernobyl. A Critical Analysis.

Article by Dr. Rosalie Bertell, Journal of Humanitarian Medicine, December 2002

Little-noted accident at San Onofre nuclear plant exacerbates California blackouts. NIRS Press Release. March 22, 2001
CRAC-2 Study. This is a summary of the 1982 NRC Calculation of Reactor Accident Consequences study conducted by Sandia National Laboratories. It indicates the enormous devastation that could be caused by a nuclear reactor accident.
The full CRAC-2 study is available here (7mb, pdf).
Related Links
Chernobyl Children's Project International