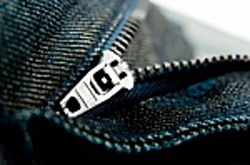 April 10, 2012. International Action! NIRS and Coalition Against Nuclear Energy South Africa have joined forces to fight against radioactive "recycling" in both countries. Act here.
April 2013. Press release from eight South African groups on campaign against licensing of radioactive metal smelters and "recycling."
April 5, 2013. NIRS and Coalition Against Nuclear Energy South Africa are joining forces to stop the international threat to radioactive contamination of the world's recycled metal supply. In the U.S., DOE threatens to release metal from radioactive areas of the atomic bomb complex and in South Africa the National Nuclear Regulator (NNR) is poised to license three radioactive metal smelters, clearly indicating the intent to import radioactive metal from other countries and raising concerns about violating the Nuclear Nonproliferation Treaty and Pelindaba Treaty.

February 12, 2013 was the deadline for public comments on an Environmental Assessment by the Department of Energy (DOE) and National Nuclear Security Administration (NNSA) to reverse its ban on release of metal from radioactive areas of their nuclear weapons sites and laboratories, immediately allowing 14,000 tons of steel, copper, aluminum and iron into everyday recycling to make common household items, personal use items, building supplies, etc. Since the policy that prevents nuclear metal from getting out would be lifted, there would be no limit on the amount of radioactive metal that could be let out in the future.
Comments from some of the groups opposing this including metal and other materials recyclers are here:
Comments of Nuclear Information and Resource Service, Coalition for a Nuclear Free Great Lakes, Don't Waste Michigan, Sustainable Energy and Economic Development SEED Coalition, TX; Defense Depot Memphis Tennessee Concerned Citizens Committee and Stand Up Save Lives, IL
Metals Industry Recycling Coalition
Physicians for Social Responsibility
Timeline on efforts to release nuclear waste into the marketplace, 1962-present.
January 15, 2013: The Department of Energy wants to mix radioactive metal from nuclear weapons factories with clean recycled metal and let it enter into general commerce--where it could be used for any purpose. It's a foot in the door for revival of a vast--and discredited--radioactive waste deregulation plan defeated in 1992.
You can help stop them - Act here! Comments accepted by February 11, 2013.
Download extensive talking points here.


NIRS first short comment is here.

Dec. 2012
Department of Energy's Programmatic Environmental Assessment.

Dec. 2012
Department of Energy's internal orders allowing and "authorizing" radioactive waste release into the marketplace and legalizing public exposures.

June 6, 2011
The 2007 NIRS report on DOE's past efforts to allow radioactive bomb waste out of control.
February 5, 2012: Decision allowing Transport of Radioactive Waste Condemned. Media Release.

November 15, 2010: Four groups charge that for steam generators slated for shipment from Canada to Sweden for "recycling", radioactive cargo is mostly plutonium.

October 1, 2010: Seven U.S. Senators send letter raising serious questions about plan to ship radioactive steam generators from Canada through the Great Lakes to Sweden, for eventual "recycling" into consumer and industrial goods.

July 10, 2010: Resolution against shipment of highly radioactive reactor components through the Great Lakes to Sweden for processing and "recycling" into consumer goods.

May 12, 2010: US, Canadian and Northern European groups oppose radioactive steam generator shipments from Great Lakes to Baltic Sea and oppose processing and radioactive release into the marketplace. Hundreds sign resolution to stop Bruce Nuclear Power waste shipments and release by Swedish radioactive waste company, Studsvik, into everyday commerce. Press Release.
May 14, 2007: Major new report from NIRS finds that radioactive materials are being released from nuclear weapons facilities to regular landfills and into commercial recycling streams where they can be used to make everyday household items. Titled Out of Control—On Purpose: DOE's Dispersal of Radioactive Waste into Landfills and Consumer Products, the report is available here. Read press release here.
Click here to check the website on radioactive scrap metal.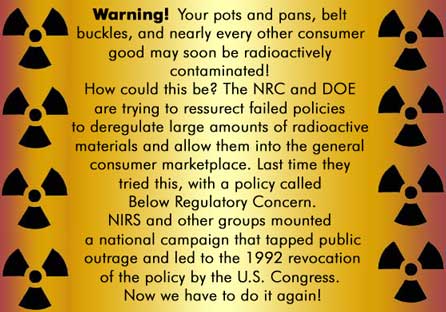 Background information on radioactive waste deregulation and "recycling"
Tools - petitions, resolutions
NRC's involvement in Radioactive Waste Deregulation
DOT/NRC's involvement in Radioactive Waste Deregulation
EPA's involvement in Radioactive Waste Deregulation
DOE's involvement in Radioactive Waste Deregulation
NAS's involvement in Radioactive Waste Deregulation
International Organizations' and Agencies' Involvement in Radioactive Waste Deregulation