---
NIRS nuclear waste specialist Kevin Kamps speaks at the Myer Music Bowl in Melbourne, Victoria, Australia on April 1st, 2007 at the Palm Sunday/Nuclear Fool's Day Peace Parade and Festival for a Nuclear-Free Future. Kevin was invited by the Wilderness Society of Australia on a month-long anti-nuclear speaking tour across the continent. He focused on the inescapable safety and security risks of generating high-level radioactive waste. Australian Prime Minister Howard is promoting building as many as 25 commercial reactors in Australia, which currently has none. Australia is also being targeted as a international dumpsite for high-level radioactive wastes from other countries.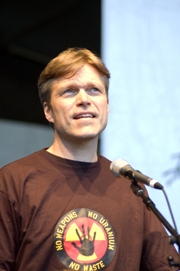 Credit: photos by Michel Chaptini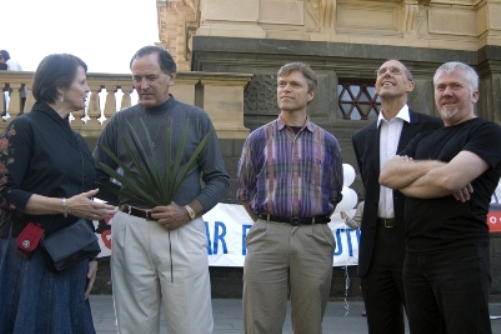 April 1, 2007, Palm Sunday anti-nuclear press conference in Melbourne, Australia with (from left to right): federal Senator for Victoria and Leader, Australian Democrats, Lyn Allison; Father Peter Norden, Associate Director, Jesuit Social Services; Father Peter Norden, Associate Director of Jesuit Social Services; Kevin Kamps, NIRS nuclear waste specialist; federal Senator for Tasmania and Leader, Australian Greens, Bob Brown; Dave Sweeney, Nuclear Free Campaigner, Australian Conservation Foundation.