Hot News and Actions
May 18, 2015. Hour-long interview of NIRS' President Michael Mariotte on 21st Century radio, recorded May 10, 2015.
May 14, 2015. In case brought by NIRS and other groups, NRC Commissioners say agency can license controversial MOX plant without determining whether it can be protected from cyberterrorism.
March 12, 2015. NIRS' President Michael Mariotte on Uprising Radio: Four years later, Fukushima disaster has no end in sight. Video and audio available here.
March 9, 2015. To the Village Square. Remarkable and beautiful new book from photographer Lionel Delevigne. Says Harvey Wasserman: "The No Nukes movement may someday be remembered as history's most essential non-violent uprising. While shutting down and preventing the construction of hundreds of lethal reactors--each with the power to
attack our core existence on this planet--it has also given birth to what may soon become the world's largest industry, the Solartopian conversion to renewable green power. Along the way Lionel Delevingne has been the 'family photographer' of an amazing body of people and actions that, against all odds, have created a way for the human race to survive."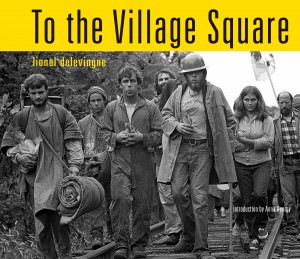 January 21, 2015. New independent report urges DC PSC to reject Exelon-Pepco merger. It would cost ratepayers and undermine renewable energy initiatives.
January 13, 2015. NIRS' executive director Tim Judson's third testimony to Washington DC Public Service Commission on proposed Exelon/Pepco merger focuses on reactor decommissioning liabilities Pepco ratepayers could be exposed to if merger were approved.
January 6, 2015. Testimony of NIRS' executive director Tim Judson before Washington DC Public Service Commission in opposition to proposed Exelon/Pepco merger.
December 9, 2014. Sens. Boxer and Markey blast NRC for U.S. collaboration with Russia to gut international post-Fukushima nuclear safety rules.
December 4, 2014. Tell your Congressmembers: No taxpayer funding for failed Yucca Mountain radwaste dump!
November 24, 2014. For 8th time in past 10 months, renewables dominate new U.S. generating capacity. For year, new renewables are more than 37 times nukes, coal and oil combined. Sun Day Campaign press release.
November 12, 2014. Digging Our Own Grave. New video from Russia's Green World on Rosatom's hapless efforts to find a long-term strategy for radioactive waste.
November 12, 2014. Wasteland. Documentary from Green World about reprocessing irradiated fuel at Russia's Mayak facility.
November 7, 2014. Green Action blasts Sendai restart approval: Governor of Kagoshima fails Fukushima lessons:
ignores science, safety and public opinion.
October 21, 2014. NRC Chair Alison Macfarlane announces she will be leaving Commission on January 1, 2015. Her term ran until 2018. Announcement, text of resignation letter.
October 20, 2014. Sen. Markey (D-Mass.) sent a letter to NRC Chair Alison Macfarlane expressing serious concerns about the NRC staff's FOCD (Foreign Ownership, Control, or Domination) paper and recommendations, and urged the NRC to not accept the recommendations. Letter is here.
August 20, 2014. Press release from Sun Day Campaign. Renewables make up 100% of new U.S. generation capacity in July 2014.
August 15, 2014. Press release from Nuclear Energy Information Service (NEIS) in Chicago: Illinois Legislature Should Oppose Exelon Bailout.
Reports, Papers and Info You Can Use
June 30, 2015. Don't Nuke the Climate telebriefing: lessons from Japan and Germany. Featuring Amory Lovins and Tim Judson with Michael Mariotte moderating. June 30, 2015. mp3 file.
June 30, 2015. New report from WISE-Paris for Greenpeace: The French nuclear industry in deadlock: The burden of France's nuclear gamble in the era of the energy transition.
June 17, 2015. Important new report from Institute for Energy and the Environment at Vermont Law School's Mark Cooper: Power Shift: The Deployment of a 21st Century Electricity Sector and the Nuclear War to Stop It. Describes how the nuclear power industry is seeking consumer bailouts for its uneconomic reactors while working to undermine adoption of clean renewable energy.
May 14, 2015. Presentation by Yves Marignac to NIRS on May 11, 2015 on French nuclear issues and its current energy transition. Documents the reasons for the stunning decline of the French nuclear industry.
April 29, 2015. Powerpoint presentation by the U.K.'s Dr. Ian Fairlie to U.S. EPA officials, April 27, 2015 on causes and effects of increased childhood leukemia within 5 kilometers (3 miles) of European nuclear reactors. Presentation in pdf.
April 16, 2015. Informal English translation of April 14 Japanese court decision barring restart of Takahama nuclear reactors. Decision challenges Japan's entire nuclear regulatory scheme, finding it inadequate to assure public safety. Prepared by Green Action in Japan.
April 15, 2015. New report from Nuclear Transparency Watch: Europe is not prepared for a Fukushima level nuclear accident.
March 11, 2015. Audio recording of NIRS' March 9 telebriefing on the aftermath of the 2011 Fukushima disaster, with Aileen Mioko Smith of Green Action, Akira Kawaski of Peace Boat, David Lochbaum of Union of Concerned Scientists. Tim Judson, executive director of NIRS, moderated. MP3 file. Notes, with graphics, from David Lochbaum's presentation (pdf file). Also, lots more new info on our Fukushima crisis page.
March 2, 2015. Conversation between NIRS' Mary Olson and radiation researcher Dr. Ian Fairlie on the health consequences of the 2011 Fukushima nuclear disaster. MP3.
January 12, 2015. Presentation from Steve Frishman of Nevada's Agency for Nuclear Projects: The Role of Geology at the Proposed Yucca Mountain Nuclear Waste Repository.
January 9, 2015. Report from four Illinois state agencies on the implications of shutdown of some Exelon reactors. Exelon, and some state legislators, had hoped this report would lay the groundwork for a ratepayer bailout of the utility's uneconomic nukes, but it falls far short of that intent.
January 9, 2015. Renewable Energies versus Nuclear Power: Comparing Financial Support. A report on energy subsidies in the European Union and how they are best allocated, commissioned by the Vienna (Austria) Ombuds-Office for Environmental Protection. Report blasts subsidies for proposed Hinkley Point UK reactors; concludes renewable energy support is more economical and effective than subsidies for nuclear power.
January 7, 2015. New report from Clean Water Action examines the failures of the Safe Drinking Water Act--and its enforcement--to protect critical clean water supplies from oil and gas development, and from uranium mining activities.
December 16, 2014. A major new report from Institute for Local Self Reliance: "Beyond Utility 2.0 to Energy Democracy." Essential reading for anyone who wants to understand the changes that are rapidly transforming the electric utility industry and how to make those changes both democratize production, delivery and use of energy as well as usher in a clean energy system.
December 5, 2014. New report from EarthLife South Africa and Ecodefense on Russia's shady efforts to build nuclear reactors in South Africa: Pay More With Nuclear.
December 4, 2014. New NIRS factsheet: Why Yucca Mountain Would Fail as a Nuclear Waste Repository
November 19, 2014. Valuable new report from Europe's EJOLT: Uranium mining, unveiling the impacts of the nuclear industry. Also, EJOLT has produced a second report, focusing on the energy future of Bulgaria and Slovenia, with special emphasis on uranium mining.
October 22, 2014. Titled "Rosatom Risks," a major new report from Greenpeace International focuses on the troubling record of Rosatom, Russia's state-owned nuclear manufacturing company--one that is aggressively trying to sell new reactors across the world.
July 30, 2014. World Nuclear Status Report 2014. An indispensable document. This year's conclusion: nuclear power globally is in a historic decline....like dinosaurs in a garden...
.