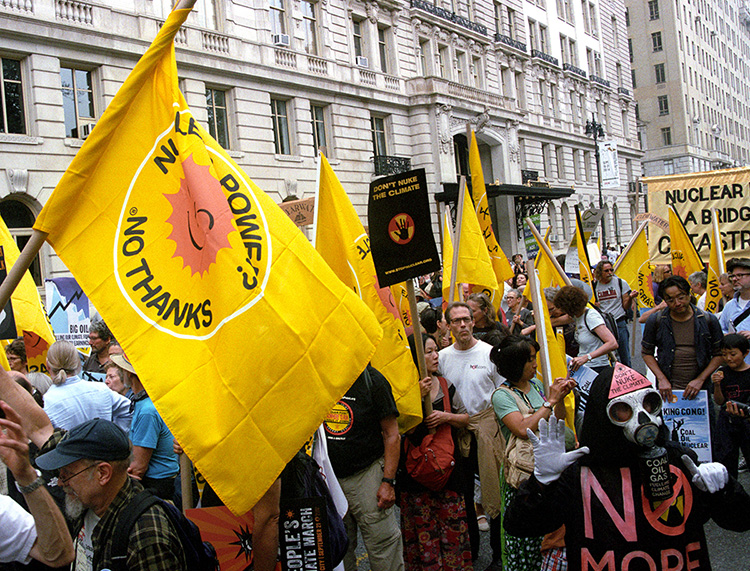 THANK YOU to the many thousands of people who marched with the Nuclear-Free, Carbon-Free Contingent to the People's Climate March September 21 in NYC. We made history. Largest climate march ever. Largest nuclear-free, carbon-free action ever.
Statement of Nuclear-Free, Carbon-Free Contingent to People's Climate March
Fact sheet: Nuclear Power and Climate: Why Nukes Can't Save the Planet.
Flyer: Talking Points on nuclear power in EPA's proposed carbon reduction rule. pdf version. jpg version.
Briefing Paper: Nuclear Energy is Dirty Energy (and does not fit in a clean energy standard). pdf
---
Breaking News
September 29, 2014
Clean energy organizations file new challenges to NRC's "waste confidence" policy.
17 clean energy organizations, including NIRS, today filed simultaneous contentions and a new petition in every open nuclear reactor licensing proceeding challenging the NRC's ability to issue new reactor licenses and license renewals. The contentions argue that the NRC has not fully addressed the issues that led a federal court to strike down the agency's "waste confidence" policy in 2012 and thus the NRC cannot issue any licenses.
Background on "waste confidence" issue
---
September 11, 2014
Killing the Competition. The Nuclear Power Agenda to block climate action, stop renewable energy, and subsidize old reactors.
Major new report by NIRS' Executive Director Tim Judson details how major utilities and nuclear power companies have begun a campaign to rig energy markets, climate regulations, and clean energy programs to prevent the advance of renewable energy. Using a deceptive public relations campaign and heavily-funded front groups like Nuclear Matters, Third Way, and C2ES, corporations including Exelon and Entergy have tried to drum up fears of a national energy crisis stemming from the closure of several aging, uncompetitive nuclear plants and the advance of renewable energy. While touting the need to "preserve" nuclear power, nuclear interests have covered up the actual reforms they are seeking and their implications for the U.S.'s energy future.
Audio recording (mp3 file) of press conference release of the report featuring Tim Judson, Dr. Mark Cooper, Vermont Law School, Institute for Energy and the Environment; Tyson Slocum, energy program director, Public Citizen; Deb Katz, executive director, Citizens Awareness Network (New England); David Kraft, executive director, Nuclear Energy Information Service (Illinois); Jessica Azulay, program director, Alliance for a Green Economy (New York).

GreenWorld, NIRS' blog, is at www.safeenergy.org
October 17, 2014
The return of Yucca Mountain?
The tortured history of the Yucca Mountain radioactive waste project took another twist Thursday as the NRC released a key portion of its Safety Evaluation Report (SER) for the project.
Judging from the reaction of the nuclear industry and its backers, you'd be forgiven for thinking that the release of Volume 3 (of five volumes, three of which are not yet completed) meant that the radwaste trains would begin rolling into the mountain this morning.
In a statement on the House Energy and Commerce Committee's website, Committee chairman Fred Upton (R-MI), a steadfast supporter of all things nuclear, called the report "game-changing," and said the American public can now have confidence that the repository would be in fact "safe for a million years."
Not to be outdone, Environment and Energy subcommittee chair John Shimkus (R-IL), like Upton a guy who has ardently backed the nuclear industry no matter what the issue, said on the same site, "Yucca Mountain is one of the most studied geological formations on the planet and today's report confirms what we've expected all along: nuclear waste stored under that mountain, in that desert, surrounded by federal land will be safe and secure for at least a million years."
The Nuclear Energy Institute was actually cautious in comparison, and used the occasion to call for more taxpayer funding to get the Yucca project licensed and moving.
The New York Times used the headline: Calls to Use Yucca Mountain as a Nuclear Waste Site, Now Deemed Safe to describe the release of the SER--a highly-technical document that it seems highly unlikely any of the legislators, industry spokespeople or reporters actually have read. Unless, of course, they're speedreaders who can plow through 781 pages of technical jargon, geologic interpretation and the like in a matter of minutes, or at most a couple of hours before making their statements and filing their stories.
Continue reading at www.safeenergy.org
Nuclear Newsreel back articles (2012-2013)
---
NUCLEAR 911!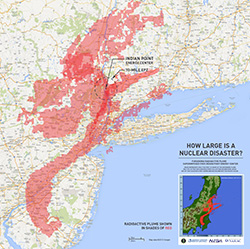 click on graphic to expand map
Could the area around Indian Point be evacuated in a nuclear emergency? Could the area around any nuclear reactor?
Are you in the evacuation zone of a nuclear reactor? Should you be? Find out here with this interactive map from Physicians for Social Responsibility.
Join the Nuclear 911 Campaign.
April 9, 2014 "The NRC has failed the American people." NRC denies petition from NIRS, 37 co-petitioners for modest improvements in emergency planning regulations. Press release. Link to NRC decision.
April 30, 2014. NRC fails to document claim made in denial of NIRS' emergency planning petition that "majority" of nuclear emergency drills include natural disaster components. Press release.