Hot News and Actions
August 16,2016: 7 Groups File for Injunction to Keep Inherently Dangerous Liquid Radioactive Waste Off our Highways. Press Release. Audio of Press Briefing.
July 13, 2016. TeleBriefing on EPA's proposed Radioactive Water Protective Action Guides: Diane D'Arrigo and Daniel Hirsch explain EPA's proposal to dramatically increase allowable radioactivity in our drinking water circumventing and exceeding by thousands of times the Safe Drinking Water Act standards, Superfund Cleanup levels, and EPA's allowable risk range for cancer.
April 28, 2016. Clean energy groups, including NIRS, urge rejection of WCS' proposed "interim" high-level radwaste dump in Texas.
April 28, 2016. Renewables swamp gas for new generating capacity in 1st quarter of 2016: 1,291 MW to 18 MW. No new capacity for nuclear or coal. Non-hydro renewables (9.53 GW) now exceeds nuclear (9.17 GW) in total generating capacity. From Sun Day Campaign.
April 25, 2016. Goals of U.S. Department of Energy Meeting in Sacramento April 26 would Trigger Largest Nuclear Shipping Campaign in History: California Cities Would be Fukushima Freeways
April 23, 2016. NIRS and AGREE submit extensive comments to New York PSC that show how NY can meet its 2030 carbon emissions goals without nuclear (and thus without nuclear subsidies).
March 9, 2016. Video and statement at march/rally celebrating the shutdown of two Takahama reactors by citizens who took the issue to court.
January 29, 2016. Green Action statement on restart of Takahama Unit 3 reactor: The lessons of Fukushima have not been learned.
July 28, 2015. Floridians: Sign petition to stop the proposed Turkey Point reactors! From our friends at Southern Alliance for Clean Energy. Don't live in Florida? Send it to a friend who does.
June 30, 2015. Don't Nuke the Climate telebriefing: lessons from Japan and Germany. Featuring Amory Lovins and Tim Judson with Michael Mariotte moderating. June 30, 2015. mp3 file.
May 18, 2015. Hour-long interview of NIRS' President Michael Mariotte on 21st Century radio, recorded May 10, 2015.
May 14, 2015. In case brought by NIRS and other groups, NRC Commissioners say agency can license controversial MOX plant without determining whether it can be protected from cyberterrorism.
March 12, 2015. NIRS' President Michael Mariotte on Uprising Radio: Four years later, Fukushima disaster has no end in sight. Video and audio available here.
March 9, 2015. To the Village Square. Remarkable and beautiful new book from photographer Lionel Delevigne. Says Harvey Wasserman: "The No Nukes movement may someday be remembered as history's most essential non-violent uprising. While shutting down and preventing the construction of hundreds of lethal reactors--each with the power to attack our core existence on this planet--it has also given birth to what may soon become the world's largest industry, the Solartopian conversion to renewable green power. Along the way Lionel Delevingne has been the 'family photographer' of an amazing body of people and actions that, against all odds, have created a way for the human race to survive."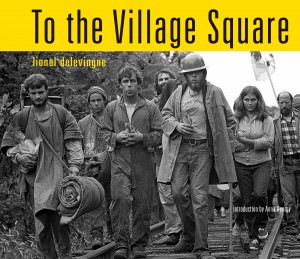 Reports, Papers and Info You Can Use
May 2, 2016. Video of today's NIRS webinar, Chernobyl +30: A Look from the Inside, with Lucas Hixson. Mr. Hixson recently traveled to Ukraine and visited the Chernobyl site. He takes us from the moment reactor Unit 4 failed on April 26, the aftermath, and the ongoing mitigation work, up to his own recent experiences living with today's workers at the site of one of the largest man-made radioactive releases on the planet. Slides only from presentation.
April 28, 2016. NIRS webinar on investigation of reactor pressure vessel bolts at New York's Indian Point reactors, which revealed numerous deficiencies and failures. The webinar examines those failures and explores the implications for reactors across the U.S. and world. Full video/audio of webinar. Slides only from presentation by David Lochbaum of Union of Concerned Scientists.
April 18, 2016. NIRS webinar, part of the #NuclearIsDirty campaign, on the effects of nuclear power on clean water as well as marine life. With presentations from Southern Alliance for Clean Energy, Beyond Nuclear, and NIRS. Recording of full webinar (mp4 format). Slides only (no audio) from each presentation (pdf format): SACE, Beyond Nuclear, NIRS
April 6, 2016. Audio file (mp3) of NIRS' telebriefing featuring Fairewind Associates' Arnie Gundersen and NIRS' Mary Olson discussing their recent five-week trip to Japan on the fifth anniversary of the Fukushima nuclear disaster.
March 25, 2016 NIRS webinar on widespread radioactive contamination around abandoned uranium mines across the U.S. and the campaign to force their clean-up. MP4 video file.
March 18, 2016. Audio file (mp3) of NIRS telebriefing on 1979 uranium mining disaster at Church Rock, New Mexico.
March 9, 2016. New PSR/IPPNW Report: 10,000 cancers expected in Japan as a result of Fukushima meltdowns, ongoing radiation exposure.
March 7, 2016. TORCH 2016. Update of 2006's The Other Report on Chernobyl, detailing the ongoing health effects of that nuclear disaster nearing its 30th anniversary. From Global 2000/Friends of the Earth, Austria.
March 3, 2016. SimplyInfo's five-year report on the Fukushima disaster.
October 5, 2015: Important new report from the UK's highy-respected think tank Chatham House: Cyber Security at Civil Nuclear Facilities: Understanding the Risks. Nuclear reactors are not adequately protected from hackers and cyberwarfare.
September 21, 2015. Updated Energy (R)evolution report from Greenpeace International finds that the world can be powered by 100% renewables by 2050. Greenpeace projections of renewable energy deployment have been consistently more accurate than those associated with government (such as International Energy Agency) and investment analysts.
September 14, 2015. Summing up the health effects of the Fukushima disaster. A brief, but extremely useful summary of the health effects, both physical and mental, from British scientist Dr. Ian Fairlie.
July 27, 2015. New study from Germany's Oko-Institut: "Costs of meeting international climate targets without nuclear power." Concludes a global nuclear phase-out by 2050 is economically feasible. U.S. and Japan would experience highest compliance costs, but these are marginal compared to GDP.
July 22, 2015. The negaWatt scenario: How France can meet the requirements of its new law--reducing nuclear power from 80% to 50% by 2025, and move further to a "climate-friendly, nuclear-free, and sustainable energy future" based on renewable energy/energy efficiency by mid-century. Now available in English.
June 30, 2015. New report from WISE-Paris for Greenpeace: The French nuclear industry in deadlock: The burden of France's nuclear gamble in the era of the energy transition.
June 17, 2015. Important new report from Institute for Energy and the Environment at Vermont Law School's Mark Cooper: Power Shift: The Deployment of a 21st Century Electricity Sector and the Nuclear War to Stop It. Describes how the nuclear power industry is seeking consumer bailouts for its uneconomic reactors while working to undermine adoption of clean renewable energy.
May 14, 2015. Presentation by Yves Marignac to NIRS on May 11, 2015 on French nuclear issues and its current energy transition. Documents the reasons for the stunning decline of the French nuclear industry.
April 29, 2015. Powerpoint presentation by the U.K.'s Dr. Ian Fairlie to U.S. EPA officials, April 27, 2015 on causes and effects of increased childhood leukemia within 5 kilometers (3 miles) of European nuclear reactors. Presentation in pdf.